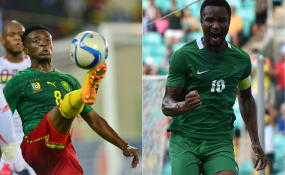 Photo: allafrica.com
Nigeria midfielder, Moses Simon, has admitted Friday's 2018 FIFA World Cup Russia qualifier between the Super Eagles and Indomitable Lions of Cameroon at the Uyo International Stadium would not be for the faint-hearted as such his outfit will do everything to grind a positive result.
The Super Eagles currently lead Group B with the six maximum points after claiming victories over Zambia and Algeria as against Cameroon's two points in same number of matches.
Yet the 22-year-old Simon, who grabbed the second goal when Nigeria beat Cameroon 3-0 in their last confrontation during an international friendly at the Edmond Machtens Stadium in Brussels (Belgium) in October 2015, believes the Super Eagles are in a good frame of mind to tame the African Champions again. Here are the excerpts of the interview with CAFOnline.com
CAFOnline.com: What are your expectations?
Moses Simon: I think it has to be 'our expectations and not mine'. Our expectation is to win in order to boost our chances of qualifying for the World Cup in Russia. The most important thing for us as a team is to win and nothing more.
What gives you this kind of confidence that Nigeria will beat Cameroon on Friday in Uyo?
My confidence comes from the general attitude of the team; as well as our quality as a team and I have so much belief in this team that we can do it.
Cameroon are the African champions, are you not scared facing them?
We were not at the Africa Cup of Nations in Gabon when Cameroon won the trophy but we have respect for them as the African champions. We have to give everything that we have when we are going to play against them. We have to play together as a team. I believe we have a very good squad with the calibre of players we have in the team right now.
You actually scored against Cameroon during the last friendly match in Belgium. Are you looking forward to repeating the dose in Uyo?
Of course! If I have the opportunity but the most important thing is about the team getting the maximum three points. It is not only about me scoring; it is for us to win on Friday in Uyo because that would be good for our aspiration of qualifying for the World Cup.
What does the return of captain John Mikel Obi mean to the team, after he missed some recent matches due to injury?
We are happy to always have him around because he's the leader. His presence alone is a great boost to the team and it will motivate us as well. We want the fans to come out to support us to win this important match on Friday. We want to keep our mind and eyes on the match in Uyo. Thereafter, we can talk about the return match in Yaounde. What Nigerians should expect from us on Friday is victory.
HEAD-TO-HEAD : NIGERIA VS.CAMEROON
DATE RESULT COMPETITION
1: 08-12-1962 Nigeria 3-1 Cameroon Nkrumah Cup, Lagos
2: 01-01-1963 Cameroon 1-2 Nigeria Nkrumah Cup, Yaoundé
3: 07-12-1968 Nigeria 1-1 Cameroon World Cup Qualifier, Lagos
4: 22-12-1968 Cameroon 2-3 Nigeria World Cup Qualifier, Douala
5: 13-02-1972 Cameroon 1-2 Nigeria Friendly, Yaounde
6: 22-01-1975 Nigeria 1-0 Cameroon Friendly, Lagos
7: 17-07-1978 Cameroon 0-0 Nigeria All Africa Games, Algiers
8: 02-02-1980 Nigeria 0-0 Cameroon Friendly, Ibadan
9: 18-03-1984 Cameroon 3-1 Nigeria AFCON Final, Abidjan
10: 17-03-1988 Cameroon 1-1 Nigeria AFCON, Rabat
11: 27-03-1988 Cameroon 1-0 Nigeria AFCON Final, Casablanca
12: 10-06-1989 Nigeria 2-0 Cameroon World Cup Qualifier, Ibadan
13: 27-08-1989 Cameroon 1-0 Nigeria World Cup Qualifier, Yaounde
14: 25-01-1992 Cameroon 1-2 Nigeria AFCON (Third-Place Play-off), Dakar
15: 07-08-1997 Cameroon 0-1 Nigeria LG Cup, Tunis
16: 13-02-2000 Nigeria 2-2 (3-4pen) Cameroon AFCON Final
17: 01-06-2003 Nigeria 3-0 Cameroon LG Cup (Lagos)
18: 08-02-2004 Cameroon 1-2 Nigeria AFCON (1/4 finals - Monastir)
19: 11-10-2015 Nigeria 3-0 Cameroon Friendly (Brussels)
Fixtures
DAY THREE
Group A
31.08.2017 Conakry Guinea vs Libya
01.09.2017 Tunis Tunisia vs DR Congo
Group B
01.09.2017 Uyo Nigeria vs Cameroon
02.09.2017 Lusaka Zambia vs Algeria
Group C
01.09.2017 Rabat Morocco vs Mali
02.09.2017 Libreville Gabon vs Cote d'Ivoire
Group D
01.09.2017 Praia Cape Verde vs South Africa
02.09.2017 Dakar Senegal vs Burkina Faso
Group E
31.08.2017 Kampala Uganda vs Egypt
01.09.2017 Kumasi Ghana vs Congo
DAY FOUR
Group A
04.09.2017 Monastir Libya vs Guinea
05.09.2017 Kinshasa DR Congo vs Tunisia
Group B
04.09.2017 Yaounde Cameroon vs Nigeria
05.09.2017 Constantine Algeria vs Zambia
Group C
05.09.2017 Bamako Mali vs Morocco
05.09.2017 Bouake Cote d'Ivoire vs Gabon
Group D
05.09.2017 Durban South Africa vs Cape Verde
05.09.2017 Ouagadougou Burkina Faso vs Senegal
Group E
05.09.2017 Alexandria Egypt vs Uganda
05.09.2017 Kintele Congo vs Ghana