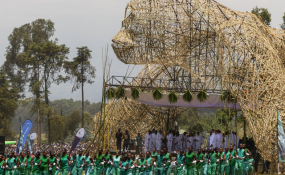 Photo: Gorilla Fund
By Athan Tashobya
For conservation enthusiasts, all roads will lead to Kinigi tomorrow for the annual baby mountain gorilla naming ceremony, Kwita Izina.
Kinigi is located on the outskirts of the Volcanoes National Park in Musanze District.
This year, 19 baby gorillas will be named as part of continued efforts to rally for the conservation of the endangered species.
The 2017 Kwita Izina is the 13th edition.
The ceremony is derived from a Rwandan tradition where the community gathers to celebrate and name a newborn.
According to Rwanda Development Board (RDB), this year's event will be unique.
"All is set for this year's edition of Kwita Izina and it is going to be special in so many ways," Clare Akamazi, the chief executive of RDB - under whose docket tourism and conservation falls - told The New Times.
Akamanzi disclosed that a number regional and international celebrities have been selected to each of the 19 baby gorillas.
"We have very a very good list of namers; one of them is a Hollywood actor, one is an actor from Nigeria, another is a billionaire, lots of them from conservation who have done extraordinary work in that sector," Akamanzi said.
This time round, young people will also be naming gorillas as well, a move designed to encourage the youth to take on and sustain conservation efforts.
"We are going to have outstanding youths involved. Some will be naming others will be showcasing what they have done in conservation," she added.
Akamanzi was cautious not to divulge details, in fear of pre-empting what is scheduled for show tomorrow.
The event is also broadcast live on public broadcaster, Rwanda Television, and streamed online for viewers across the world.
"The reason we are involving young people this year," Akamanzi explained, "is that people need to be educated at a very young age about conservation so that they, too, can become advocates."
"We have seen that for a long time we have left conservation to government and NGOs and researchers. But we want to make it clear that conservation is for everyone including young people." she added.
Why gorillas need special attention
There has been growing concern from environment activists that growing human encroachment is threatening depletion on biodiversity, including the endangered mountain gorillas.
According to Animal Fact Guide, a resource for on wildlife, mountain gorillas, the strong apes inhabiting Africa's volcanic slopes, have few natural predators. Yet due to unfavorable human activity, such as poaching, civil war, and habitat destruction, the mountain gorilla, a subspecies of the eastern gorilla, has become "the most endangered" type of gorilla.
Currently, the mountain gorilla's habitat is limited to protected national parks in two regions of Africa. One group is spread over three national parks in the Virunga transboundary region Rwanda, DR Congo, and Uganda. The other group lives in the Bwindi Impenetrable National Park in Uganda.
About 800 mountain gorillas are left in the entire world. Rwanda is home to about 400 of them with the rest shared between the other two borders, though they all freely move along the borders.
Some 239 mountain gorillas have been named in the 12 ceremonies since the first Kwita Izina in 2005.
Is the first Kwita Izina the gorilla population has grown by 26.6 per cent.
Mountain gorillas contribute up to 90 percent of government revenues from national parks.
In 2016 alone, Rwanda earned $404 million from tourism. The target this year is $444 million.
A portion of these revenues go directly to helping the communities around the parks by way of extension of social amenities such as health facilities, schools, water sources, among others.
Akamanzi said the Government has moved to increase public share of the revenues collected from tourism in bid to appreciate the parks' neighbouring communities for playing a key role in the conservation success story.
Starting this fiscal year, revenue sharing arrangement will double from 5 per cent.
Joe and Mary Anne McDonald are professional wildlife photographers who have trekked mountain gorillas more than 100 times.
Mrs McDonald was among the gorilla namers last years and her husband is expect to name one this year.
In a recent interview, McDonald told The New Times that Rwanda's conservation efforts are inspiring.
"We have been to so many places in the world. But it is in a very few places where you will see money generated from tourism being invested back into conservation as it is in Rwanda. Putting people at the centre of conservation is very key. This is inspiring," McDonald said.