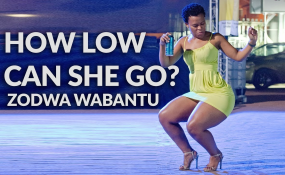 Photo: Zodwa WaBantu/Facebook
Former Studio263 soap actress Anne Nhira who has been at the receiving end on social media after petitioning government to stop entertainer Zodwa WaBantu from performing at this year's carnival, made a surprise appearance at the Grace Mugabe solidarity rally Wednesday.
She was dressed in a white sun hat and a branded Presidential Interface Youth rally t-shirt and followed proceedings while enjoying her ice cream.
Nhira, who says she is a TV show host in South Africa, has so far received more than 4 000 comments on her Facebook profile with most of them accusing her of choosing to petition the Youth Minister Patrick Zhuwao on trivial issues.
The former actress who chose to stand close to the VIP main stage said she was not comfortable speaking to the media.
"I am here as a Zimbabwean and I choose who I should associate with," said Nhira in a brief interview.
"People may say whatever they want about me, it is within their rights, like everyone here."
Asked if she was also going to petition the Youth Minister Patrick Zhuwao on issues such as job creation, Anne said those affected must do so.
"If there is anyone affected and not working, they can do that and maybe something will be done," she said.
"No more questions, I do not want to talk to the media about all those things or another issues for now, check my Facebook status for the message to Zimbabweans."
Anne wrote that she was ecstatic that the government had responded to her letter of objection to Zodwa WaBantu performing in Zimbabwe.
"This is my message to all Zimbabweans if you are a citizen of Zimbabwe and you have concerns you should direct them to the government and speak," reads part of her message.