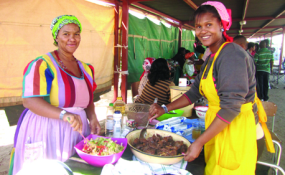 Photo: The Namibian
By Rukee Kaakunga
Diners will be treated to a delectable night of local cuisine featuring donkey meat at the second annual 'Donkey Meat and Wine Pairing' event taking place tomorrow at the Old Location Restaurant in Windhoek West at 18h30.
Organiser of the event, Tao !Noarises, says that the event is aimed at showing people that donkey meat can be prepared and enjoyed in a variety of ways from how it is prepared and eaten traditionally.
Organisers are also using the event to break cultural stereotypes associated with the delicacy. "We want to break cultural and tribal barriers that we have in our country and show that everybody can enjoy this delicacy," !Noarises says.
Another aim of hosting the event is to get tourists to be interested in this specific dish which is unique to Namibia. "We want to promote donkey meat and celebrate culture and heritage through the event that has the potential to boost tourism and get visitors to Namibia to see what locals here eat," says !Noarises.
"There will be enough food for everyone so don't be shy to come as we want to show you that donkey meat can be prepared as a gourmet dish and not just by boiling it," !Noarises says.
Tickets are available at Computicket and Shoprite Checkers outlets in Windhoek. Diners will be treated to a gourmet buffet consisting of donkey meat, fish and chicken as well as wine and a pleasant atmosphere to mingle and network.