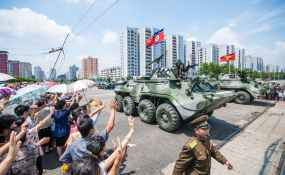 Photo: Uri Tours/Wikipedia
analysis
In the wake of the North Korean missile fired into Japanese airspace - on the United Nation's commemorative "International Day Against Nuclear Tests" on August 29 - an emergency UN Security Council meeting was called over the escalation of tensions in the Korean Peninsula. Repeated missile testing by North Korea this year, and reports indicating that it has weapons with the capacity to reach parts of the United States, mean that the threat is becoming more imminent. BY ADITI LALBAHADUR.
While South Africa appears far removed from the immediate fallout of a possible nuclear war in the Korean Peninsula, it will not be immune from the ensuing global fallout. As a country deeply integrated into the international community, one that takes a strong stance against nuclear weapons, South Africa ought to play a more proactive role in addressing this escalating crisis.
A Deadly Cocktail
Although estimates suggest that North Korea has at most 20 of the world's 14,935 known nuclear weapons, it is currently the most threatening nuclear power. Several factors contribute to this - the Kim dynasty's isolation from world affairs make their motives largely unknown; the perceived threat it feels under and lack of trust in the international community...