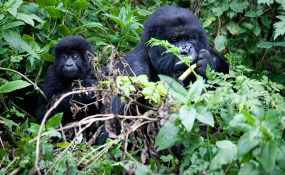 Photo: Timothy Kisambira/New Times
editorial
The annual Kwita Izina festival, a very unique baby gorilla naming ceremony, is upon us again.
This year 19 names will be given, among them 14 infants born during the past year, four females that relocated from DRC and a new group that was formed.
Kwita Izina somehow emulates the Rwandan tradition where naming new-borns is a time for celebration.
It has gained worldwide fame and is now a tourist attraction in itself where the lucky few get the privilege of giving a name to a gorilla, pretty much becoming a God parent.
As usual, the function is accompanied by multiple conservation awareness events and to crown them all this year the 41st Annual World Tourism Conference is taking place in Kigali.
Rwanda has taken a comprehensive conservation approach that has seen its efforts pay off, especially to communities neighbouring national parks.
Through the government's revenue sharing programme with the communities, schools and health centres have been built as well as other community initiatives.
Those neighbouring the parks now know the value of conservation.
Rehabilitated former poachers now serve as guides and game wardens as they now know the layout of the park like the back of their hands.
Now Rwanda Development Board needs to devise plans so that other national parks and other attractions share a bit of the Kwita Izina attention.
There are many potentials lying out there and only need some innovative approach to make them more productive, especially the Tembera Urwanda programme that gave many Rwandans a glimpse of some parts of the country they did not know existed.