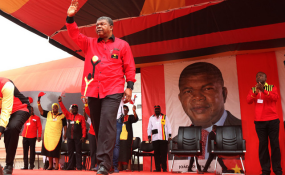 Photo: Pedro Parente/ANGOP
Luanda — A message from Angolan head of State José Eduardo dos Santos, which highlights the support by the Democratic Republic of Congo (DRC) for inclusion of Mbanza Kongo to world heritage, was handed over Wednesday to his counterpart Joseph Kabila.
The message was delivered by Minister of Culture, Carolina Cerqueira, in her capacity as president's special envoy.
José Eduardo dos Santos acknowledged the DRC for the support and institutional contribution to the preparation and promotion of Mbanza Kongo candidacy to the World Heritage list of UNESCO.
The minister is leading a delegation integrated by the Secretary of State for Foreign Affairs Manuel Augusto.
Permanent ambassador to UNESCO Diakumpuna Sita José and the senior staff of Ministry of Culture, also join the delegation.
The official said that the Congolese statesman expressed his country's availability to strengthen cooperation with Angola.
According to the minister, Joseph Kabila wants to reinforce cooperation in various fields, based on friendship and fraternity ties binding the two peoples.
DRC president, who congratulated Angola on recent achievement, also intends to continue working with Angola from the point of view of cultural research and historical organization.
The objective is to make Mbanza Kongo an efficient Center Cultural that dignifies Africa and takes the reality of the history of Angolans abroad, she said.
The minister informed the Congolese president on the Angolan electoral process, stressing that provisional results give victory to the MPLA with more than 60 percent of the votes.
She also pledged Angola's availability to continue working in cooperation with people of Congo under the friendship and fraternity relations, for the peace and sustainable development of the region.
Early this month, Carolina Cerqueira also visited Congo Brazzaville and Gabon for the same purpose.
The Historical Centre of Mbanza Kongo city, the ancient capital of the Kingdom of Kongo, which covers the DRC, Congo Brazzaville and Gabon, joined the list of World Heritage following the 41st session of the World Heritage Committee of UNESCO held in Krakow (Poland).