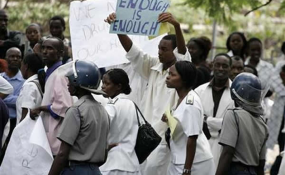 Photo: The Herald
Zimbabwean health workers currently working in Namibia are at risk of losing their jobs after the Namibian authorities issued an order to suspend both the hiring of foreign nurses and renewal of expired contracts.
Reports said the move, which will be effective on September 1, 2017, will, "suspend the appointments or extension of contracts of non-Namibians as well as Namibians who have reached the age of 60."
The reports quoted Namibian Permanent Secretary of Health and Social Services, Dr Andreas Mwoombola, confirming the move.
Zimbabwe currently has over 4000 unemployed nurses after government froze the appointment of more health practitioners despite there being serious staff shortages in state hospitals and clinics countrywide.
Recently, Health minister, David Parirenyatwa, told a graduation ceremony at the Gweru Provincial Hospital that government was set to recruit 2000 nurses in January next year as part of efforts to fill more than 8000 vacancies in public health institutions across the country.
Most health practitioners have relocated to other countries to secure employment, with neighbouring countries like Namibia, South Africa and Botswana absorbing most of them.
However, due to limited vacancies, the Namibian government says it will remove foreign nurses to make way for local graduates, according to a government circular.
"The Ministry's current staff establishment does not have the sufficient number of vacant posts in which to accommodate these graduates. Due to the current financial situation faced by the Ministry and Government as a whole, certain adjustments and control measures have to be put in place in order to accommodate the graduates."
"As a result, all State health institutions will not renew any contracts that will be expiring as from 01 September 2017, until all young Namibian graduates are accommodated," the circular said.
Namibia Minister of Health and Social Services, Dr Bernard Haufiku, is reported to have travelled to Zimbabwe this week to meet with his Zimbabwean counterpart over the matter.