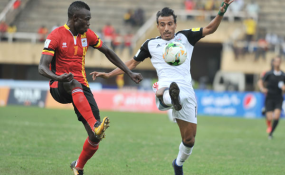 Photo: Ismail Kezaala/Daily Monitor
By Ismail Dhakaba Kigongo
Kampala — Moses Basena is quick to brush aside Uganda Cranes' memorable 1-0 victory over Egypt at Namboole on Thursday ahead of Tuesday's 2018 World Cup qualifying return leg in Alexandria on Tuesday.
"It is as sweet as it lasts," Cranes' interim coach Basena said at the post-match press conference. "We encountered very many difficult because for many players the season has only started," he added.
Tanzania-based striker Emmanuel Okwi got the solitary goal early in second stanza to lift Uganda to seven points, one better than the Pharaohs who now lie second.
Only the group winners will qualify for next year's World Cup in Russia and it was perhaps implausible that Uganda, who last beat Egypt in 1965, a 5-1 drubbing, would be the group leaders after three games.
Seven-time African champions Egypt have been to two World Cups, the last of which was in 1990 while Ghana, also in this group, are seeking a fourth straight tournament appearance.
"We did a good job closing them out. It's not easy playing a technically gifted side like Egypt and many doubted us. Now this brings a bit of pressure," Basena said.
Adding that; "We need keep our feet down. (On Tuesday,) we play a wounded Egypt."
Okwi's goal could be changing the course of history in a manner similar to the way the ball on the edge of the six-yard box in a half-empty stadium.
He switched the ball from right to left before slotting it past a near-static Esam El-Hadary, now 44 years old and winning his 145th cap, in the Egyptian goal.
"It's great to win and we have beaten a real giant," Okwi stated in the post-match press conference. Over the past 52 years, Uganda has endured annihilations, the biggest a 6-0 result in 1995 in Alexandria.
With a return leg to come in Alexandria on Tuesday, Okwi, ignored for the 2017 Africa Cup of Nations, preached caution. "We know it's going to be tough so we have to keep our feet on the ground," he said.
"When you are a striker, you want to score goals. So when given a chance, I will give 100%," the Simba striker stated after leaving the game with cramps.
Left back Godfrey Walusimbi largely kept Liverpool ace Mohammed Salah quiet except for the two moments.
The first, his header required Denis Onyango to pull off a save at his near post. Then, defender Isaac Isinde had to complete a scuffed clearance.
His over-the-top pass was met by Saleh Saleh only for Africa's best Onyango to tip over as Cranes held on for what is arguably Uganda's biggest result ever.
Arsenal midfielder Mohammed ElNeny failed to impose himself on the Ugandan midfield manned by Khalid Aucho and Hassan Wasswa. Uganda has never been to the World Cup. For now, the dream is firmly alive.