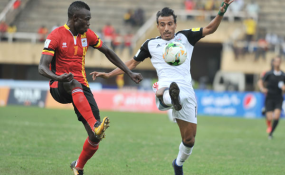 Photo: Ismail Kezaala/Daily Monitor
By Mark Namanya
Namboole — Going into yesterday's Uganda vs Egypt Russia 2018 Fifa World Cup qualifier, no one knew what to expect in the ensuing 90 minutes of football.
So much was on the line because of the surreal year that 2017 has been for Ugandan football.
For the first time in 12 years, the national team was going into a significant match with a Ugandan coach running the touchline.
You have to go back to Mike Mutebi for the last time a Ugandan coach commanded the dugout in a match carrying such magnitude. Then, Uganda drew 1-1 with Ghana's Black Stars at Namboole.
When Fufa made the laudable decision to entrust the team with coaches Moses Basena and Fred Kajoba on interim basis after the departure of Micho Sredojevic, it was a calculated gamble.
Until then, few men at Mengo had the balls to task a Ugandan to manage the national team like it used to be in the pre-Harrison Okagbue era.
Micho had established such a glorious control over the team that his exit left Cranes orphaned, or so it appeared.
Cranes had competed at the Africa Cup of Nations this year - where they did not do shabbily - and two clean sheets in the World Cup qualifiers in matches against Ghana and Congo Brazzaville proved that Uganda was fast-becoming a force to reckon with.
But even with the Chan 2018 qualification under Basena's belt, the dreaded feeling was that Egypt, the 2017 Afcon finalists and Africa's most successful side, would expose the inadequacies of a Uganda coach managing the national team.
One important win over Egypt will not earn Basena the job but rather, it has made a compelling case for him and other Ugandans to be in the frame for right to manage the Cranes.
In that sense, Basena's win was as much celebrated by fans as Ugandan coaches. It was their victory in their quest to return the job to a Ugandan.
This was not a result against a continental minnow or mediocre African side like Comoros or Botswqana, two of the teams Uganda overcame to reach Gabon 2017. Yesterday's scalp was a mighty African power; a team featuring top-level footballers and a world-acclaimed coach in Hector Cuper.
In the build-up to the game, all the attention had been dominated by Liverpool's Mohamed Salah who at the weekend eviscerated Arsenal. Closely following Salah was Arsenal's Mohamed Elneny. And marshalling their backline was West Bromwich Albion's Ahmed Hegazi with Essam El-Hadary, one of Africa's greatest goalkeepers of all time, standing between their sticks.
So desperate are Egypt to reach the Fifa World Cup - they have not been there in 27 years - that they sent an advance team to monitor the playing surface and closely tracked the Micho story like their qualification depended on it. Clearly they did all the preparation of a team leaving nothing to chance in their quest to play at the biggest tournament in sport.
Yet here we are today, mulling over how Basena orchestrated their defeat. In some ways it was like Connor McGregor knocking down Floyd Mayweather.
It was not just the Basena show at Namboole. The Cranes team is in a transition of sorts with so many new faces pressing for their claims to the red shirt. Derrick Nsibambi put in a good shift, most notably when he rose over the towering Hegazi to force a finger-tip save from Hadary. There will be life after Geoffrey Massa after all.
Uganda's last two matches have been decided by different strikers (Geoffrey Sserunkuma put Cape Verde to the sword in the 2019 Afcon opener) and Nsimbambi's goal for the country is a question of when not if.
Perhaps the most relieved Cranes player at full time was Isaac Isinde, back in the national fold after being consigned to exile for the mistake that resulted in the penalty that settled the Ghana-Uganda game in Port Gentil in January.
But the centre half took the opportunity of his recall with two hands and scarcely looked a pack of nerves. He struck a chord with Murushid Juuko and the two did enough to handle the two Mohmouds, Hassan and Soliman.
It was only after the introduction of Saleh Saleh for Abdallah Bekhit that Egypt got close to goalkeeper Denis Onyango's goal but when they did, the reigning 2016 Uspa sportsman of the year pulled off the reflexes that have made him Africa's dominant goalkeeper today.
One such save denied Saleh Saleh, a magnificent finger-tip save with the ball destined for the top corner of goal.
Onyango also saved a point blank Salah header that would have drawn level. He has now gone three years without conceding a goal at Namboole, the last team to breach his net being Togo when it beat Uganda 1-0 in October 2014.
What all this means is that Uganda Cranes are 270 minutes from the 2018 Fifa World Cup. Impossible? Maybe. But stranger things have happened in sport.
More importantly, no one will blame Uganda for failing to reach the World Cup. Basena and the players can continue living the dream.