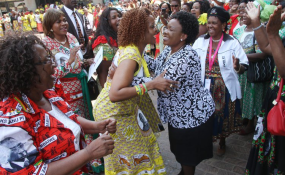 Photo: Justin Mutenda/The Herald
President Robert Mugabe's Zanu-PF party says doctors, health workers and ambulances will be on stand-by to attend to people, including VIPs, who go to President Robert Mugabe's rally on Friday.
Vice President Emmerson Mnangagwa got seriously ill at a similar rally in southern Gwanda district last month. He was rushed off in an ambulance and was later flown to South Africa for treatment and tests.
118 health workers
"Eight ambulances, 118 health workers, including four doctors have been mobilised to attend to members of the public, as well as VVIPs," Midlands Provincial Minister Jason Machaya told Thursday's state-run Herald.
There was speculation that Mnangagwa was deliberately poisoned by opponents within the ruling Zanu-PF party, though the government denied that. It said he probably ate stale food.
100 000 supporters
The Zanu-PF youth wing wants to bring more than 100 000 supporters to Friday's "interface rally" in the central city of Gweru in support of Mugabe's 2018 re-election bid.
Midlands is the traditional power base of Mnangagwa. He is seen as a strong contender to succeed Mugabe but his faction faces fierce opposition from a faction loyal to First Lady Grace Mugabe.
"This will be the mother of all interfaces as we target 120 000 people," Machaya said. He said 70 000 litres of fuel had been procured to ferry supporters to the rally in hundreds of buses, trucks and vans. Trains will bring additional supporters.
'False and mischievous'
Meanwhile, Mnangagwa has dismissed rumours he was poisoned at the August 12 rally by ice cream from Grace Mugabe's dairy. In a statement released to state ZBC radio late on Thursday, Mnangagwa said the claim was "false and mischievous and is being peddled by unscrupulous elements with a sinister agenda of creating a rift between him and the First Family".
The rumour was also meant to "lower confidence in products from the dairy and cause unnecessary alarm and despondency among peace-loving Zimbabweans", the ZBC quoted him as saying.
News24