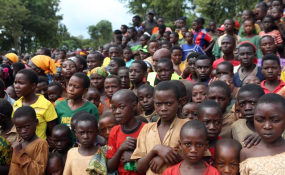 Photo: Daily News
By George Njogopa
Dar es Salaam — Some Burundian refugees hosted in Tanzania will be repatriated on September 7 following an agreement reached by the host government, Burundian authorities and the United Nations High Commissioner for Refugees (UNHCR).
The decision was reached after long discussions involving the three parties on how best to repatriate the refugees. This move will involve refugees who have voluntarily chosen to go back home.
In the talks held in Dar es Salaam yesterday, Tanzania was represented by Home Affairs minister Mwigulu Nchemba, while his Burundian counterpart Pascal Barandagiye led the Burundi delegation and the UN body was represented by Chansa Kipaya.
The participants signed the resolution that officially opens the door for refugees to voluntarily go back to their country.
Speaking at the event, Mr Nchemba said despite the repatriation, Tanzania will continue to host refugees while observing the international laws to that effect as it has always been doing.
Some 12,000 Burundian refugees have already registered for repatriation and Mr Nchemba was optimistic the number would rise in the near future.
"At the moment, Tanzania hosts over 350,000 rufugees. Most of them are from Burundi and the Democratic Republic of Congo (DRC). The move does not only offer a permanent solution to refugees but it also provides them with platforms to effectively participate in development activities in their home countries," he said.
He said, most refugees attained the status after fleeing political conflicts in Burundi. However, the situation has started normalising making it safe and possible for them to return home.
"Recently, Burundi President Pierre Nkurunzinza visited his Tanzanian counterpart John Magufuli, during their meeting the matter (refugees) featured and Mr Nkurunzinza reassured President Magufuli that the situation in Burundi has improved," said Mr Nchemba.
The minister insisted that Tanzania government has not and will never use force to deport refugees.
"We're acting according to the international treaties guiding refugee welfare. One of their requests was to be escorted back home by police. The government is looking into that," he said.
Apart from Burundi and DRC other refugees who have been hosted in Tanzania include those from Somalia and Yemen. Most refugees live in camps located in Kigoma and Kagera regions.
In July, President Magufuli ordered the suspension of naturalisation of Burundian refugees, and said those still in Tanzania should voluntarily return home as the security situation had improved.
Dr Magufuli issued the directive while in Ngara District, which borders Burundi, after holding talks with his Burundian counterpart, Mr Nkurunziza.
Addressing a public rally that was also attended by President Nkurunziza, Dr Magufuli said granting Burundian refugees Tanzanian citizenship was not the best solution at the moment given the fact that their country of origin's security situation had stabilised.
Recently, the United Nations World Food Programme (WFP) announced it has been forced to reduce food rations for 320,000 refugees in Mtendeli, Nduta and Nyarugusu camps in northwest Tanzania as a result of funding shortfalls.
WFP urgently requires $23.6 million from now through to December 2017 to be able to continue meeting the food and nutritional needs of refugees in Tanzania.
WFP provides refugees, primarily from Burundi and the DRC, with five food commodities: maize meal, pulses, super cereal, vegetable oil and salt.
Due to funding shortages, all five commodities were reduced for the August distribution, reaching only 62 per cent of the 2,100 required kilocalories which is the recommended daily calorie intake.
"Without an immediate response from donors, further ration cuts will be necessary as food stocks are simply running out," WFP Tanzania Country Representative, Michael Dunford was quoted as saying.
He added, "WFP appeals to donors to quickly come to the aid of the refugees and provide additional funding so that we can return to full rations and avoid any prolonged negative impacts."
WFP warned that reducing rations will result to far-reaching and potentially life-altering consequences for refugees. Cutting the intake of kilocalories and nutritional support can lead to acute malnutrition and increased vulnerability to disease.
In addition to the five food items, WFP also provides hot meals for refugees upon arrival, supplemental rations for pregnant and nursing women and food assistance to hospital in-patients and people living with HIV/Aids.