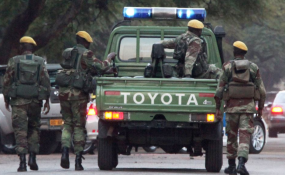 Photo: VOA
Gweru — Vendors operating at Old Post Office have been relocated to the new vending site near Swift to pave way for the official opening of a community information centre by President Robert Mugabe.
President Mugabe will open the centre ahead of an interface rally slated for this Friday, New Zimbabwe has established.
The vendors started moving their goods on Monday and by midweek Zanu PF youths could be seen sweeping the area.
Several vendors who spoke to this publication on condition of anonymity said although they were against the move there was nothing they could do to resist the order.
"Where an order comes from Zanu PF and you want to resist the move you can imagine the consequences," said one vendor.
"What is disheartening is that we are carrying out activities legally and we were also operating at a registered site but we have been relocated."
Other vendors said the Swift site was on the outskirts of the city and would see them face difficulties in attracting customers who normally prefer to buy in the city centre.
Zanu PF provincial chairman Daniel Mackenzie Ncube could not be reached for comment.
The vending stalls at Swift site were constructed more than a year ago to create space for the mushrooming illegal vendors dotted around the city centre although the latter have resisted the relocation.
Early this year, vendors, who ply their trade at illegal points in the city, resisted calls by council to vacate the sites, saying they were forced into those places by economic hardships.