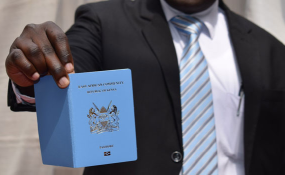 Photo: Capital FM
By Stella Cherono
The current Kenyan passports will be rendered obsolete in two years.
Kenyans have therefore been asked to apply for an e-passport that was launched by the immigration department on Thursday.
The immigration department will start processing and issuing the new passport, which also serves as the East African Community passport, starting September 1.
"The Immigration Department will no longer process and issue the current ordinary, diplomatic and East African passports," Director of Immigration Gordon Kihalangwa said during the launch.
The passport will have electronic chip with the owner's details.
SIGNATURES
Mr Kihalangwa said the department had received 1,800 application for the new e-passport.
"We have a backlog of another 16,000 applications for the current passport which will obviously be processed as the e-passports. We are asking those who made the applications to come and give their signatures and other details for us to continue with the processing," he said.
He said the new modernised system will make it faster for the department to process new passports and make renewals.
"With the kind of equipment we have now, we will be able to process up to 2,000 passports a day, an improvement from the 800 we have been doing," Mr Kihalangwa said.
DUPLICATES
He however said 3,000 processed and printed passports will be issued to the owners but they will be encouraged to apply for the new passport during collection.
Acting Interior Cabinet Secretary Fred Matiang'i said the e-passport is highly secure and that it is difficult to produce duplicates.
"The data base is enhanced with Automated Fingerprint Verification System (AFIS) that guards against multiple passport issuance to the same person.
"This minimises theft of data and passport forgery. The electronic chip embedded in the e-passport booklet stores holders' bio data and biometric information safely," Dr Matiang'i said.
He said the passport comes in handy in addressing the threats of terrorism, human trafficking and other transnational crimes while curbing cases of identity fraud.
EAC
The function was also attended by Cabinet secretaries Phyllis Kandie (East Africa Community), Joe Mucheru (ICT) and Charles Keter (Energy) and several principal secretaries.
The directive to rollout the issuance of the EAC e-passport was launched during the 17th EAC Ordinary Summit of the EAC Heads of State held in Arusha Tanzania on March 2 last year.
Kenya becomes the second EAC community state to launch the EAC e-passport after Burundi. All member states are required to do so by December 31 next year.
The charges for the new passport remain Sh7,000.
Application can be done online through the e-citizen platform but applicants will be required to present themselves in person for biometric capture at the passport issuing offices in Kisumu, Mombasa and Nairobi.