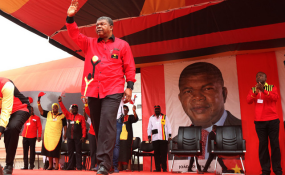 Photo: Pedro Parente/ANGOP
Luanda — The consolidated national results from the 23 August general election will be published in coming days.
This was announced Wednesday in Luanda by the spokesperson for the National Electoral Commission (CNE), Júlia Ferreira.
The official said CNE will publish the results as per deadline set by the law, 6 September this year, at a time one province is till to release the figures.
Júlia Ferreira was speaking at the end of the 29th CNE extraordinary plenary session attended by the permanent representatives of the six contesting parties that decided that the national consolidating results should be started as soon as the whole data from the provincial electoral commissions are delivered.
According to the 23 August general election results released by the CNE, the ruling MPLA leads the counting with 61,05, followed by opposition UNITA (26,72), CASA-CE (9,49), PRS (1,33), FNLA (0,91) and APN (0,50).