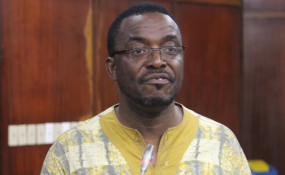 Photo: FrontPage Africa
By N. Dweh Nimley
The Liberian Senate on Thursday took a vote of no confidence against Education Minister George K. Werner.
Minister Werner was summoned by the Senate to show reasons why he should not be held in contempt based on a post on his Facebook page.
The invitation was based on a communication from Montserrado County Geraldine Doe Sheriff, requesting plenary to invite the minister.
Minister Werner on August 17, 2017 had one of several posts on his Facebook page that read "That book we will eat, let politicians campaign with their strength, because debate cannot make a person to win elections".
Article 44 of the constitution says "Contempt of the Legislature shall consist of actions which obstruct the legislative functions or which obstruct or impede members or officers of the legislature in the discharge of their legislative duties and may be punished by the House concerned by reasonable sanctions after a hearing consistent with due process of law".
But legal experts when contacted on the matter said the comments of the Education Minister didn't obstruct the functions of the legislature, adding that the Senate was in error to have even summoned him.
It is believed that the action taken by the Senate will be resisted strongly by President Ellen Johnson on grounds that said action lacks constitutional basis.
During Thursday's session, Minister Werner was also compelled by the Senators to apologize for his social media post; But Werner rejected the order saying he did nothing wrong.