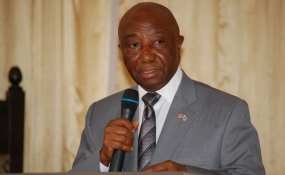 Photo: Joseph Boakai
As Liberia progresses to the much anticipated October 10 General and Presidential Elections, a stalwart of the ruling Unity Party (UP) has predicted an overwhelming first round victory for Vice President Joseph Boakai.
Senator Varney Sherman, who formerly served as Chair of the UP, is confident that given the overwhelming support being given to the UP, among other electoral probabilities such as "popularity," the UP will be crowned the winner in the first round of the elections.
"We stand a very good chance, there is a very high probability that we might win on the first ballot. Our investigation shows that the popularity is there, that the capacity is there, it is very likely that we might win on the first ballot," Sherman said.
Article 83(b) of the Constitution of Liberia requires that "All elections of public officers be determined by an absolute majority of 50 percent plus one vote of the vote cast." It further proposes that a second ballot is conducted between the two candidates who receive the highest number of votes in case none of the parties acquires the absolute majority during the first ballot.
These requirements, as contained in the nation's constitution, seem to be almost impossible to meet, as evidenced by the fact that the October 10 presidential election is being contested by over 20 political parties with a meager 2.1 million registered voters.
Sherman's prediction seems impossible to political pundits, especially those from the Coalition for Democratic Change (CDC) of soccer legend, George Weah and Charles Brumskine's Liberty Party (LP), among others.
Referencing the 2005 and 2011 elections in which there were second rounds, sources close to the CDC and the LP told the Liberia News Agency that Sherman's prediction is elusive, and cautioned the Grand Cape Mount Senator to rather concentrate on how to grapple with the defeat of the UP when the vote is finally announced by the National Elections Commission.
It is being speculated in many quarters that the UP is not being backed by the incumbent leader, Ellen Johnson Sirleaf, and as such the party will not amass the required votes it needs to win in the first round or the election itself by extension.
But Sherman who was quizzed by legislative reporters on Tuesday argued that in 2014 he obtained 60 percent of the votes cast while vying for his current senatorial post and that he at the time, was not supported by President Sirleaf.
Based on this premise, the corporate lawyer is of the opinion that he sees the possibility of Ambassador Boakai winning the forthcoming elections with more than 60 percent.
Sherman, who returned from the United States recently where he underwent a surgical operation, affirmed his commitment to canvass for Boakai to ensure that he wins the nation's highest seat, come October.