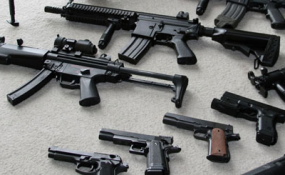 Photo: http://www.capitalfm.co.ke
editorial
'IT'S ALL over between Namibia and North Korea', a headline read in July last year after media reports of North Korean involvement in the construction of our military projects, UN threats of sanctions, and the government's undertaking to cut ties with two of their state-run companies building the defence head office and a munitions factory.
Officially, government announced that it had terminated the services of Korea Mining Development Trading Corporation and Mansudae Overseas Projects, but was cunning on the wording for relations between the two countries.
Korea Mining Development Trading Corporation (Komid), North Korea's primary arms dealer, is blacklisted under UN sanctions for earning foreign cash through illicit arms trades. Construction company Mansudae is known for having built several state houses, statues and monuments in Africa.
In Namibia, they have already built the national history museum and State House, and are busy with the defence headquarters and the shadowy munitions factory.
This led to Namibia being accused of violating United Nations sanctions against North Korea.
Our deputy prime minister, Netumbo Nandi-Ndaitwah, who doubles up as international relations minister, promptly got onto the plane to Pyongyang.
The trip was undertaken to inform their counterparts of the decision to end cooperation with the North Korean companies.
Most people thought that the sight of North Korean labourers doing ordinary work, which should be done by Namibians, was over.
How wrong we were. We did not read between the lines.
The statement released upon Nandi-Ndaitwah's return said "while Namibia remains committed to the implementation of all UN sanctions resolutions ... the warm diplomatic relations with the DPRK [the Democratic People's Republic of Korea] will be maintained".
This is why we still see the North Korean guest workers labouring at the construction sites.
As sanctions tighten around them, North Korea is increasingly desperate to maintain the flow of dealings with more countries who are prepared to risk their international standing.
In fact, international media quoted our minister of presidential affairs, Frans Kapofi, this year as saying North Korea is a "long-time ally, a partner in development, and an affordable contractor", and that we rely on them "for help to develop our infrastructure, and their work has been unparalleled".
At yesterday's exchange rate, we have already given over N$1,3 billion to North Korea through various construction projects since 2002, and Windhoek seems to remain steadfast in keeping relations with them.
Kapofi was supported by former ambassador to Washington Tuliameni Kalomoh, who said "our world outlook was determined by who was on our side during the most crucial time of our struggle, and North Korea was there for us".
But should such sentiments hold against the risk we face of UN sanctions?
Did the UN not equally play a key role in the attainment of our independence? Are they not more neutral, especially since the Korean companies in question are questionable?
It is no secret that Mansudae works abroad in part to earn money for the government or ruling party of North Korea.
So, we are basically their financial lifeline.
In the meantime, their treatment of Namibian workers remains terrible.