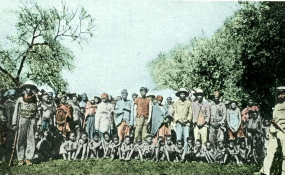 Photo: Wikipedia
opinion
By Ndumba J Kamwanyah
In recent times, each headline from newspapers brings its own depressed story about the Namibian house's reconciliation and national unity.
There are headlines about a national and international coalition to investigate the Lubango dungeons. The former SWATF/Koevoet members demanding to be recognised as war veterans is another.
Land dispossession and ancestral land rights, and the intra-Ovaherero conflict over historical sites are other headlines splashing the pages of local newspapers and social media.
A dark cloud of ethnic-driven interests are also fast emerging at the speed of light. Back in the news is also the call for the Zambezi region to be seceded from Namibia.
The Namibian reconciliation we knew now stands at a crossroads, just like many other African nations who came before us, a defining moment from which we should pause to decide our country's future trajectory as one nation.
The Lubango dungeons, SWATF/Koevoet demands, the Caprivi secession issue and the land issue are the biggest thorns in our reconciliation process. If not handled with care, they have the potential to destroy us before we destroy them.
They have the potential to tear apart the rock upon which the Namibia tree is built. A grand tree under which for 27 years we played, sat and took shade suddenly would be brought down by that divisive storm.
That is the reconciliation foundation that Sam Nuyoma, the Founding President of this nation, tried to build under 'One Namibia-One Nation'. This is also the very reconciliation, Hifikepunye Pohamba perpetuated under the continuity mantra and Hage Geingob is now trying to build under an inclusive Namibian house.
But was or is that 27 years grand old tree built on a solid foundation? No is the answer I am willing to give and stick with it until proven otherwise. Legend has it that the debate over the new Namibian Constitution was an extraordinary combination of great political argument and skilled political minds that resulted in a blanket amnesty for past abuses by both sides.
However, other features of reconciliation - such as forgiveness, apology, healing and truth were not part of our nation's reconciliation journey.
In actual fact, we do not have a policy of reconciliation. What we have is an unwritten and stated intention mentioned only in the pre-amble of our Constitution.
With that our reconciliation fell short and lacked social mechanisms to translate it into practice.
Therefore, this blank reconciliation has been responding to the many thorny issues of our time in the same manner though these issues all require different strategies and conceptualisation.
Whether we are ready for Lubango dungeon investigations is the question we should answer. Why can the party and the government not be brave enough to just apologise and admit wrongdoing so that we can move on once and for all? After all, war is a messy business and in such a messy situation mistakes are bound to be made.
South Africa worked hard to destroy the liberation movement but many people who were arrested by Swapo indisputably were also innocent.
Apartheid South Africa is history and no longer in charge of Namibia to apologise. This means the government of the day owns all the mess left behind by the defeated apartheid South Africa.
The SWATF and Koevoet, too, must atone and apologise to the Namibian people for siding with colonial forces. They should also be reasonable in their demands. They cannot qualify to be given war veterans' status. Veterans' status for the war they fought against whom?
War veterans' status is accorded to people who fought and died for their motherland, not the reverse.
Equally the government and the Namibian people must show the capacity to forgive their prodigal sons and daughters. Namibia has a choice to disassociate herself from other people but not her own children. The former SWATF and Koevoets are Namibia's own flesh, therefore we should find a way to assist and integrate them back into the greater Namibian nation. Many did not join the war out of their free will.
The same drill for land, exclusion and marginalisation. Let us find practical mechanisms to transform and put them into action instead of empty talks. Lack of meaningful and tangible transformation is what is causing people to react in a more tribalist way, not the other way round.
Namibians have no qualms to identify themselves as both Namibians and as members of ethnic groups. Identity is never a zero-sum situation. I am a Namibian but also a Kavango. There is no contradiction there. Failure at political and administrative level to manage diversity is the cause of the current rise in ethnic-driven interest demands.
Let us stop, reflect, and find our way out of the crossroads towards meaningful reconciliation. As we stand at the crossroads, we are left with two choices: To destroy the division among us before it finishes us or to allow the division to destroy us before we destroy them.
Ndumba Kamwanyah is deputy director at the University of Namibia's centre of professional development and teaching and learning improvement.