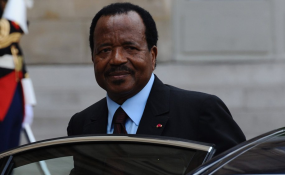 Photo: Premium Times
New York — The office of President Paul Biya announced August 30 that Cameroon is ending criminal proceedings against those detained during unrest in the country's two English-speaking regions.
Atia Tilarious Azohnwi, political editor of The Sun, Tim Finnian, editor of Life Time magazine, and Hans Achomba, a freelance documentary filmmaker, are among those released from jail in Yaoundé last night, their families and colleagues told CPJ.
Achomba and Finnian were arrested in January, and Azohnwi was jailed in February. All three faced trial by military tribunal under Cameroon's anti-terror law.
"We welcome the release of Cameroonian journalists Atia Tilarious Azohnwi, Tim Finnian, and Hans Achomba, but they should never have been jailed in the first place," said CPJ Africa Program Coordinator Angela Quintal.
"We urge President Paul Biya to free other journalists jailed under the anti-terror law, including RFI correspondent Ahmed Abba, and to end authorities' abuse of the legislation to crackdown on critical voices and those reporting on unrest."