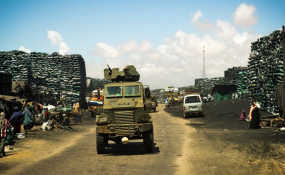 Photo: Phil Moore/IRIN
Heavily armed Al shabaab militants were reported to have launched a dawn attack on military base belonging to Jubbaland state forces located in the outskirts of Somalia's southern port town of Kismayo, about 500Km south of Mogadishu on Sunday.
Reports said the attack began after a bomber detonated his explosives laden vehicle detonated at entrance of the military outpost at Bulo-Gaduud area, some 35Km north of Kismayo and then armed fighters engaged a fierce gunfight with Jubbaland forces.
Hours-long fighting broke out between the two sides that has caused huge casualties, but the number has not yet been confirmed.
A resident in Bulogaduud, where the attack took place has confirmed to Radio Shabelle that Al shabaab militants managed to briefly seize the control of Jubbaland military camp.
Al shabaab said in a reported posted on its affiliated online media outlets that its fighters took over the base, after overpowering Jubbaland state forces in the area during the car bomb and gun attack in the early hours on Sunday daybreak.
Jubbaland state officials are yet to comment on the attack and casualties on their side.