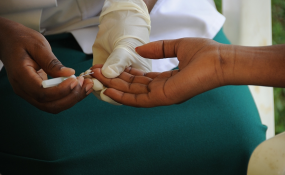 Photo: The New Times
By Zephania Ubwani
Arusha — Adolescents is the only age group where HIV rates are increasing faster in Africa, according to medical experts.
HIV and full-blown Aids is also the biggest killer of adolescents in the continent, they said ahead of a regional conference starting here today (Monday) on how to protect children from HIV.
The World Health Organization (WHO) estimates that by next year at least 1.8 million children will be on treatment from the sexually transmitted disease by next year.
For Tanzania, recent statistics by Elizabeth Glaser Pediatric Aids Foundation (EGPAF) indicate that out of the 1.4 million people living with HIV, 91,000 of them were children aged O to 14 years.
The US-based Foundation has been supporting HIV and Aids programmes in Tanzania since 2003/2004 and as of 2017, it had supported 453 health facilities with HIV services integrated with tuberculosis and reproductive health.
This was revealed as medical and allied experts are converging here for a conference set to discuss the psycho social support for the children and youth living with HIV.
The three-day forum, expected to attract 400 participants from 13 countries across the globe, will be organized by the Regional Psychosocial Support Initiative (REPSSI), a non-profit organization.
Speaking during a pre-conference session dedicated to the children here on Saturday, the permanent secretary in the Health ministry Ms Sihaba Nkinga emphasized the role of psychosocial support in well upbringing of children and youth.
She said although Tanzania has made significant strides in bringing down child mortality and morbidity, there were great challenges to be addressed in improving the lot for them.
"The challenges facing the children and youth in Tanzania and in the region (Southern Africa Development Community- Sadc) are enormous", she said, calling for collective efforts to correct that.