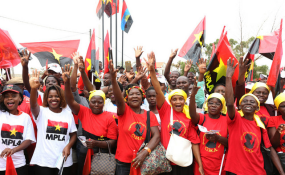 Photo: Angop
Luanda — The National Electoral Commission (CNE) started on Saturday the national count of votes to determine the definitive results of the last August 23 general elections.
Last Saturday, after holding its 30th extraordinary plenary session the National Electoral Commission (CNE), through its spokeswoman, Júlia Ferreira, informed that the latest complaints filed by the opposition UNITA party and CASA-CE coalition were dismissed by the CNE as out of date, inept, illegitimate and without competence.
"Once we sort out this situation (electoral complaints) today, which were conditioning the start of the next stage of the electoral process, if we find no impediments, the CNE will then start the national count of the votes", explained the source to journalists.
She explained that the national count stage is intended to determine the parliamentary mandates of each contesting political force and make the final analysis of the whole data to get to the definitive results of the polls and subsequently announce them.
Meanwhile, the CNE spokeswoman reminded that the decisions reached in regard to the complaints submitted by UNITA and CASA-CE can be challenged through an appeal to the Constitutional Court.
UNITA, the largest opposition party, had alleged illegalities in the procedure that led to the release of results in the provinces of Benguela, Lunda-Norte, Cunene, Namibe, Moxico and Luanda.
On its turn, CASA-CE coalition pointed to the provinces of Cuando Cubango, Huambo, Moxico and Malanje as having recorded irregularities in the said procedures.
According to the coalition, the votes tally in those regions did not comply with the legal precepts.
The provisional results of the last August 23 elections give the ruling MPLA 61.05 per cent of the votes, followed by UNITA (26.71%), CASA-CE (9.46%), PRS (1.33%), FNLA (0.90%) and APN (0.49%).
In terms of the National Assembly (Angolan Parliament) 220 seats are up for grabs, with the ruling MPLA close to winning no less than 150 parliamentary seats.