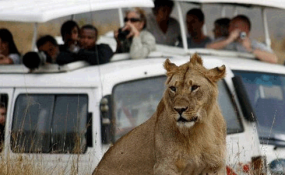 Photo: The Citizen
By Sunday News Reporter
Tanzanians have been advised to cultivate a culture of visiting local tourism attractions instead of leaving the opportunities to foreigners only.
The advice was given yesterday by the Tanzania and Zambia Railway Authority (TAZARA) Public Relations Officer, Ms Regina Tarimo, during the arrival of tourist Rovos Rail at the Dar es Salaam Station. Ms Tarimo said the Rovos with 51 German tourists aboard started their trip in Cape Town, South Africa, two weeks ago.
"Our railway line is connected to Southern African countries, which is an opportunity for increased revenue as well as tourism attractions, Tanzanians should use the opportunity as well," she said Ms Tarimo underscored the need for all local concerned parties to join efforts to promote domestic tourism as the infrastructures are there for Tanzanians to enjoy.
On her part, Rovos Rail Operations Manager, ms Alicia Taljaard, said the tourists will visit a number of tourist attractions during their stay.
She said the tourists started their route in Cape Town and passed through Botswana, Zimbambwe, Zambia and finally Tanzania.
One of the passengers, Mr Hans-Dieter Steinbach said they will enjoy seeing a number of attractions available in the country especially the animals at the Selous Game Reserve.