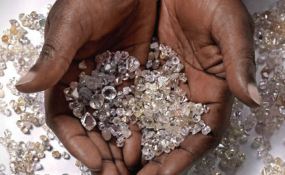 Photo: The Herald
Marange — Traditional leaders here are bitter on how the wealth generated from the mining of diamond by Zimbabwe Consolidated Diamond Company (ZCDC) is being distributed to local communities.
Speaking on the side lines of a workshop organized by Centre for Natural Resources Governance (CNRG), headman Mukwada said ZCDC was giving much recognition to headman Chiadzwa yet most of mines were under his jurisdiction.
There are three headmen under Chief Marange namely Mukwada, Chiadzwa and Chipindirwe.
"Chiadzwa has one mine in his area which is Jenani. Chiadzwa was only popularized by a shopping centre during the diamond rush. Most of mines fall under my area. The area should be known as KwaMukwada," said Mukwada.
He said Mbada, Marange Resources, Anjin and Rera mined in his area before their licenses were suspended by government last year, adding that most revenue was generated from his area.
"Headman Chipindirwe only has Diamond Mining Company (DMC) under his area of jurisdiction and share another piece of Marange Resources with headman Chiadzwa," he said.
Mukwada said he was not happy that his subjects were jobless and living in abject poverty while his area was being discriminated in terms of development yet more diamonds were mined in his area.
"People from Chiadzwa get first preference and my people registered their displeasure about this development. We want things to be done fairly," said Mukwada.
He said officials from the, army and ZCDC visited his homestead to discuss about the matter.
"They came to my homestead and I told them there is nothing in Chiadzwa. I have five mines in my area and my subjects should benefit as well," said Mukwada.
Headman Chipindirwe's spokesperson confirmed that there was discrimination in terms of wealth distribution.
He said ZCDC should treat all headmen under Chief Marange equally and fairly.
"People in Chiadzwa are the ones who get jobs and even if we give them a list with names of our children they alter it. We wonder why they do so because they don't have mines to talk of," said the spokesperson.
Headman Chiadzwa is reported to have snubbed the meeting although an invitation was extended to him to be part of the gathering to discuss developmental matters.
Meanwhile, villagers said ZCDC should fulfill the promises which were made by former miners. Villagers said they want clinics, schools and good road network.
They said the company cannot to mine without ploughing back into the local communities.
"There should be a difference between the former miners and this government mine. We want to see real development in our area," said one villager who identified himself as David Mutsago.