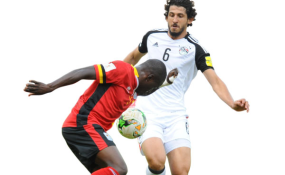 Photo: Eddie Chicco/Daily Monitor
editorial
By Editor
The third round of 2018 Fifa World Cup qualifiers in Africa was held last week across various cities on the continent.
Uganda's 1-0 victory over Egypt on Thursday sent shockwaves everywhere and made tomorrow's return leg in Alexandria appetising.
Yet regardless of tomorrow's outcome, Cranes are in the thick of the race for Russia 2018.
Ranked as minnows of Group E in pot four when the draw was conducted last December, Uganda have stunned the odds to assume pole position after three rounds of games.
There are three rounds of qualification games to go and ridiculously good as it sounds, Uganda are three results away from playing at the World Cup.
Again whichever way the qualification campaign goes, Cranes have proved beyond reasonable doubt they are not far off from the best in Africa.
The gap between the haves and have nots has thinned to a point where Cape Verde beat South Africa, Congo Brazzaville frustrated Ghana away from home and Senegal drew a blank at home to Burkina Faso.
It is a welcome development that Uganda is part of the African wave of lesser heralded sides more than holding their own against the continent's aristocrats.
But for Uganda to cross the Rubicon and finally become a household name of the game, a lot must be done differently.
So often the national team is left to fight on its own with limited funding from the government.
While it is true that there is some funding from sponsors, sustaining Cranes' competitive level will require structured government support.
For instance many of the elite coaches on the continent have their salaries paid by national governments.
If or when Uganda appoint the replacement of Micho Sredojevic who stepped down citing unpaid arrears, it would be appropriate that his wages are met by the government.
As national team footballers, those players are usually representing the national flag on every travel.
To extract maximum performance from the group, top-level discussions about flying by private charter on away games must be held.
That cost can sound like a luxury but when you consider the amount of time lost in stop-overs and the exhaustion of economy class up in the skies, it becomes paramount that the national team should enjoy smooth travel all over Africa.
With players now earning a competitive $3000 for every win, the sky would be the limit for Uganda Cranes if government guaranteed more support for the team.