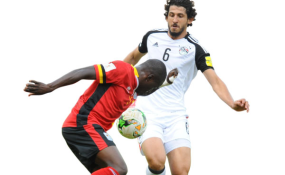 Photo: Eddie Chicco/Daily Monitor
By Andrew Mwanguhya
Kampala — Six continents, 209 teams and, by yesterday; 715 matches played with 2,044 goals scored - yet only 73rd Fifa-ranked Uganda remain unscathed!
Uganda have suffered over the years under unfriendly statistics against, especially, North African opposition. But for once, the Cranes can afford a wry smile at them.
For the first time, thanks to Emmanuel Okwi's goal in the 1-0 victory in Kampala last Thursday, and the indefatigable tenacity throughout the Cranes, Egypt come into tomorrow's crucial World Cup qualifier chasing.
The Pharaohs, under the command of legendary goalkeeper Essam El-Hadary, celebrated coach Hector Cuper and superstar Mohamed Salah - his nullification by Godfrey Walusimbi at Namboole notwithstanding -, will not only be looking to re-align their World Cup dream in the main.
They will have to first become the only country to breach Uganda's defence after five failed attempts, including last Thursday's, to stay bright their dream.
Uganda's strength is in the collective. They attack together at calculated moments and die for each other once on the back foot. Actually, Uganda's defence is so good it is statistically the best in the world. Yes. You read that right.
Up until this stage, only Uganda - in the whole world - have not conceded a goal in the 2018 World Cup qualifiers.
Uganda, Morocco lead way
True, Morocco join the Cranes as only the other nation not to have conceded a goal in this final round of qualification in Africa but only Uganda globally have not let in a goal since qualification started two years ago.
The Cranes have in their five World Cup qualifying matches against Togo (home and away) in the second round, and Ghana, Congo Brazzaville and Egypt in the group stage scored six of 2,044 goals netted since the early phases started.
Standard Liege forward Farouk Miya has scored four of Uganda's goals to co-lead the African scoring charts with four others.
The other two were scored by Okwi and retired ex-captain Geoffrey Massa.
The ever-present of that backline have been impeccable skipper Denis Onyango - apart from the 1-0 victory over Congo Brazzaville when Robert Odongkara came in for the injured Mamelodi Sundowns goalkeeper, Murushid Juuko and Joseph Ochaya/Godfrey Walusimbi.
Others are Nicholas Wadada/Denis Guma and Isaac Isinde, with Hassan Wasswa and Khalid Aucho among others pulling strings in the middle and Miya doing the execution on the other end.
Hostile crowd
This kind of team defence, solidity, dying more for the country and more is what they will require in a territory Uganda have never won against the hosts - in the modern Borg El Arab stadium packed with 60,000 hostile fans with laser rays part of the proceedings.
"We will remain focused," promised Onyango, "Of course, everyone knows that we haven't done well in some places but that is irrelevant now." Should Uganda, top of Group E with seven points - one ahead of Egypt - avoid defeat tomorrow, they will edge ever closer to their first World Cup appearance, while victory for the Pharaohs will put them in prime position for a first finals since 1990.