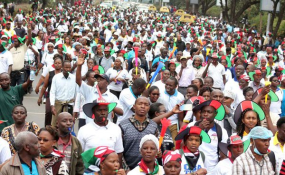 Photo: Dennis Onsongo/Daily Nation
By Angela Oketch
Patients will have to wait longer for services at public hospitals as the tussle between nurses and governors continues.
Deaths and cases of patients suffering have been the order of the day, with the strike paralysing services at public hospitals for 90 days now.
The governors on Thursday took a hardline decision, threatening to sack nurses who will not have returned to work by Friday, September 8.
ILLEGAL
The decision, arrived at during the governors' first meeting after the election, described the industrial action as illegal.
The court on Friday also affirmed the county chiefs' decision and declared the three-month strike illegal.
Lady Justice Hellen Wasilwa directed officials of the Kenya National Union of Nurses (Knun) to immediately call off the strike and desist from interfering with the running of health care through illegal strikes.
The nurses first went on strike on December 5 last year, seeking harmonisation of their collective bargaining agreement (CBA).
STRIKE NOTICE
Justice Wasilwa said the strike was unlawful because Knun did not issue a notice to the Cabinet secretaries for Health and Labour as provided for under Labour laws.
The order puts over 25,000 nurses in a tight spot.
The judge directed that Mr John Biiy be reinstated to the CBA negotiation team comprising officials from the union, Ministry of Health and Council of Governors (CoG) since he was not involved in the strike yet he is the Knun chairman.
On Saturday, the nurses maintained that the strike was legal, adding that they would not go back to work until their demands are met.
NO SERVICES
Knun secretary general Seth Panyako said they would not work with Mr Biiy "as he does not have the interests of nurses at heart".
"Why would he purport to be one of us yet he is against everything that nurses are doing?
"Why would he be forced on us? He is not the union's chairman. He is the court's chairman," Mr Panyako said.
A spot check by Sunday Nation in public facilities revealed that the doors leading to most hospital wards were closed, including maternity wards.
PATIENTS
Patient James Otieno, from Kobura in Kisumu County, showed us a big wound in his right leg, which he said started as a pimple.
"I am very much affected by the nurses' strike, considering the critical role they play in providing health care.
"I have developed a big wound; there is no one to dress it or advise me on what to do," Mr Otieno said.
Many Kenyans continue to suffer as the two groups that should bring order to the health sector continue to trade accusations in public. No one is willing to give in.
PUBLIC HOSPITALS
Council of Governors' (CoG) chairman Josphat Nanok said counties will not hold any talks with nurses until they go back to work first.
"As far as we are concerned, the strike is illegal. We have given them up to Friday to either report to work or we employ other nurses," Mr Nanok said in a phone interview.
He said the strike is unlawful because it was executed when negotiations were going on.
Mr Nanok said it was unfortunate that public hospitals equipped to offer services at a cheaper rate were closed for three months because of the strike.
BUDGET
Health workers are demanding recognition of their CBA.
Mr Nanok, who is also the Turkana governor, said the CBA could not be honoured due to "budgetary constraints".
In June, governors presented to the Salaries and Remuneration Commission (SRC) a proposal for the national government to provide Sh40.3 billion for nurses, but it was rejected.
The SRC dismissed the Sh20,000 that nurses sought as health risk allowance. It proposed that the figure be reduced to Sh5,000.
NEGOTIATION
Mr Panyako on Saturday maintained that they were not going back to work and was waiting for the CoG to act on September 8.
"The decision they have arrived at will re-energise the strike. Even nurses who were left in hospitals will join us. The situation will worsen," he said.
Mr Panyako said they were in talks with the CoG and had agreed on issues that could lead to the signing of the agreement.
"Why would they engage us for a whole week only for them to change everything we had agreed on and start issuing threats?
"We are not going back to work. The strike is on. We are waiting for them to sack us," Mr Panyako said.
GRIEVANCES
The nurses said they had dropped some of their demands, including responsibility and call allowances, but Mr Nanok insisted they had refused to budge.
"What is it that they wanted us to do? How do the nurses work without uniform allowances? Are they nuns who are given free uniform? Mr Panyako asked.
He said they were willing to give in to demands by governors during the talks, as both parties seemed eager to end the strike.
Management of the health docket by governors since devolution started has resulted in perennial strikes over transitional and human resource grievances.