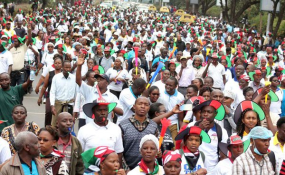 Photo: Dennis Onsongo/Daily Nation
By James Kariuki
Public service employment is donning a new face, with incoming governors insisting on paying based on work done rather than on the traditional 30-day system.
A number of county bosses, on assuming office, have sent workers home while others are insisting on signing contracts with those hired, subject to performance.
Their action could be informed by a study done by the private sector in 2015, which found out that some workers are paid every month for work not done.
"If you pay for work done on a piece rate basis, then you reward performance where hard workers will reap higher earnings while slow or lazy workers will suffer the consequences. Woe unto you when absenteeism becomes the norm yet you have to pay for work not done but for all workers on the payroll," said the study.
The Federation of Kenya Employers (FKE) findings proposed adoption of a performance time-rate scheme for private sector workers, but this was roundly condemned by trade unions during last year's Labour Day celebrations.
FKE executive director Jacqueline Mugo said the proposed scheme was the best driver for better production, commensurate to work done, as opposed to the current system where all employees on payrolls have fixed salaries that overlook days not worked, lateness and volume of work done.
Their findings were quickly thrown out, with the Central Organisation of Trade Unions (Cotu) opposing their implementation on the ground that workers' rights must be respected.
On his first day in office, Tharaka Nithi Governor Muthomi Njuki send home 1,000 workers, among them 300 nurses, citing a need to reduce the Sh200 million wage bill to Sh100 million and ensure residents received the services they were taxed to fund.
He said some workers were being paid for idling while contract staff were overworked, thereby denying the county government funds for development.
Machakos Governor Alfred Mutua suspended 440 workers, citing mismanagement and reduced collection of revenue, while Siaya Governor Cornel Rasanga promised to adopt a pay-for performance structure where workers hired will be subject to annual reviews before their contracts are renewed.
Given the hundreds of positions that have been advertised by counties, the FKE pay structure could finally find a home as governors insist on adoption of performance-based agreements where staff hired sign one-year contracts.
While Public Service Commission boss Margaret Kobia warned governors against sacking workers, Nyandarua's Francis Kimemia and Garissa's Ali Korane have ordered an audit of all employees to establish their stations and job descriptions, including how they were employed, before making decisions on the matter.
Kenyans supporting governors' actions say workers enjoying permanent and pensionable status are the most unproductive, compared with contract employees who have to meet strict deadlines or risk losing their jobs at the need of their terms.
Governors maintain that workers' productivity would rise since they (workers) would respect their authority and implement projects to the letter while improving service delivery. This is because the workers would know too well that governors have the final say on their employment.
"In public service, many workers report to work when they want, arrive late and also leave their work-stations at any time, or before 5pm, leaving a coat or sweater behind to justify their presence.
"On Fridays, many leave their work-stations after lunch for upcountry travel in total disregard of their employment terms and conditions, only to resume duty at around midday on Monday," said Nairobi resident Peter Mwamburi.
It is this trend that incoming governors have pledged to end in a bid to improve service delivery and stamp their authority as county managers.
The Jubilee administration has witnessed a series of labour upheaval, with striking teachers, doctors and nurses disrupting services while pushing for better terms of service from their employer -- the national government.
But the government has rebuffed most of these demands, saying county governments are in charge of all services within their regions, hence giving individual county government the mandate to determine pay packages for their workers.
Workers have opposed the move, saying they wish to remain under the employment of the national government.