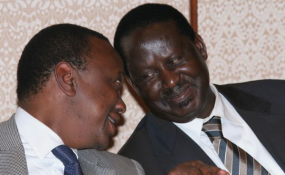 Photo: File photo/The Nation
By Patrick Lang'at
Opposition leader Raila Odinga has described the Supreme Court judgment that annulled the presidential elections as a second chance for Kenyans to vote out an oppressive government.
An optimistic Mr Odinga laid down to his supporters what he said was a pathway to his ascension to power, one he said was even clearer after the judgment: We won, they stole, we caught them, and now we will beat them again fair and square.
"Had the IEBC agreed to open the servers, there will have been no need to go for a fresh poll. I will have just been declared the winner. We won! We beat Uhuru by 1.5 million votes, and we will do it again," Mr Odinga told an excitable, packed-to-the-brim crowd at Masinde Muliro grounds in Mathare.
He was referring to an order by the Supreme Court for IEBC, at the request of Mr Odinga's legal team, to open its servers, a request that the agency failed to grant when the report by the court's registrar was presented to the team.
60 DAYS
According to Mr Odinga, the task for Kenyans in the poll, to be called within 60 days of the judgment of the court, will be to vote out an oppressive government and vote him in, presenting himself as the voice of change and hope.
"We beat Uhuru and he knows it. We will do it again. I ask you to channel your anger to voting to the last man when a new poll is called," said Mr Odinga.
He dismissed President Kenyatta's outbursts on the Supreme Court following the judgment that annulled his win, paving way for what was Africa's first decision by a Supreme Court.
"You nagged us to go to court, we did. The court listened to us and said you stole our vote, and ordered a new election. What more do you want from us?" he asked.
He asked President Kenyatta to borrow a leaf from him, saying he had disagreed with the judgment of the court in 2013, but had not resorted to abusing the judges.
"Mr Uhuru Kenyatta, leave Kenyans alone. Do not abuse Justice Maraga," said Mr Odinga.
HAILED JUDGMENT
Mr Odinga's running mate Kalonzo Musyoka, who was a co-petitioner in the case, hailed the Supreme Court judgment as precedent-setting, saying it was now being celebrated around the word.
However, he told the National Super Alliance supporters, the battle for State House did not end in them winning the case.
"Do not tire. We are so close. And we are saying: Never again will the people of Kenya cast a vote and then what is thrown at them are computer-generated leaders," said Mr Musyoka.
Musalia Mudavadi, another Nasa co-principal, said they will marshal all resources to win in the fresh poll.
"Jubilee's theft of our votes was digital, but we caught them manually. Let us now turn out to vote to the last man, and show the world that no one should try to subvert our will," said Mr Mudavadi.
Mombasa Governor Ali Hassan Joho revealed a plan to "guard Raila's votes" in which he said all elected leaders of the Nasa coalition will be involved.
GUARD VOTES
"I will send Babu Owino and Steve Mbogo to Kiambu to guard the votes, and then I will go to Nyeri. We will guard every vote," said Mr Joho.
In Kitui, Governor Charity Ngilu told President Kenyatta to forget the 170,000 votes he got from Ukambani region.
Ms Ngilu said that the Kamba community will make a major statement in the repeat presidential election ordered by the Supreme Court on Friday, by voting to the last man for Mr Odinga and Mr Musyoka.
The governor said President Kenyatta's angry reaction to the ruling that annulled his win, including threats to the Supreme Court judges and steadfast defense of the discredited IEBC confirmed that the elections were bungled.
"The Kamba vote belongs to Nasa, we voted for Raila Odinga and without apologies we'll cast our lot with him again," Governor Ngilu said in Kitui town when he hosted Wiper MPs and members of county assembly to lay ground for Mr Odinga's campaign.
Mrs Ngilu warned Jubilee leaders to stop insulting Nasa leaders and the Judiciary saying Kenyan voters were fed up with their dictatorial tendencies and their disregard for the 2010 Constitution which guarantees basic freedoms.