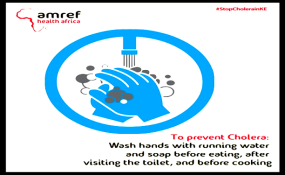 Photo: AMREF
By Lillian Mutavi
The number of police officers who have contracted Cholera in Nairobi has risen by more than 30.
The city county's Health Chief Executive Bernard Muia on Monday said 95 officers, from 59 on Sunday, had been affected by the disease after eating food at Multi-Media University in Rongai.
CANTEEN
The officers from various parts of the country were part of the team deployed to maintain security ahead of Supreme Court judgement on Raila Odinga's election petition on Friday.
Consequently, the city county has temporarily closed the Nairobi area police canteen.
Speaking at Sinai Hospital where 50 patients are admitted, Dr Muia said they suspected the canteen could been the source of the outbreak.
"This is just a standard practice. We are temporarily closing the canteen in a bid to undertake investigations on what transpired and if the food was outsourced," said Dr Muia.
He said 50 patients were at the Sinai Hospital, 33 at Nairobi Women Hospital Rongai Branch while 12 were admitted to Kenyatta National Hospital.
QUARANTINE
Speaking at the same forum, Health Cabinet Secretary Cleopa Mailu said the number of officers affected shot up on Sunday but they were in stable conditions.
He said some patients had been discharged while others were still receiving treatment.
The hospital, he said, had been quarantined and only admitted patients were being allowed in.
The CS said the city county was helping in replenishing medical supplies that had run out at the hospital.
UGALI
The officers have occupied all the wards, including maternity, female those for children.
"We have closed off this hospital from the public. We will be here for some days after that we fumigate and disinfect it then they will go on with their business," said Dr Mailu.
Dr Mailu said they would investigate if the food was outsourced by the canteen to cater for the large number of officers.
He said the ministry was concerned that instead of eliminating cholera, new cases were emerging.
One of the police officers who requested anonymity said they ate Ugali and meat stew at the canteen on Saturday.
He said he started feeling sick in the evening.