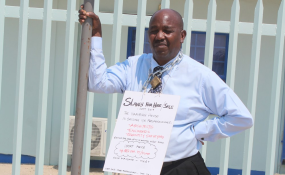 Photo: The Namibian
By Nuusita Ashipala
Oshakati — Former mayor of Oshakati Ben Kathindi spent three hours on Friday chained to a pole in scorching heat, protesting silently against the Ministry of Works and Transport which he accuses of not caring about local engineers, quantity surveyors and architects.
He protested outside the Namibian Broadcasting Corporation (NBC) northern offices.
The director of Ben Kathindi Architects, on a poster tied around his neck, indicated that other professions are next in the line of sale by government ministries.
The poster read: "Slaves for hire/for sale. The Namibian House is selling its professionals: architects, engineers, and quantity surveyors."
Kathindi's protest follows several other interventions in an attempt to halt the Ministry of Works and Transport from extending the expired memorandum of understanding (MoU) between Namibia and Zimbabwe for another five years.
In recent weeks, the Minister of Works and Transport Alpheus !Naruseb exempted 29 Zimbabweans from certain professional registration, allowing Zimbabwean quantity surveyors and architects to work in the country for another five years.
Cabinet has since ordered the ministry to review the process.
Also making a stop at NBC where Kathindi was protesting was a local engineer Tuli Nashidengo of Archetype Project Consultants, who said he equally feels the pinch of being disadvantaged, unappreciated and seemingly not being prioritised when opportunities arise.
"I fully understand his plight - the message is clear and what he is trying to convey is quite obvious, and he knows what he is talking about," said Nashidengo. Not knowing until when the silent master planned to stretch the protest, Nashidengo said there was need to show solidarity for the good of everyone.
Kathindi's liberator for the day was Johannes Kandobo, formerly a chief regional officer of Oshana Regional Council, who freed him from the chain. He said the situation is an embarrassment to the country and the world at large.
Without giving further details, Kandobo said the message was clear to everyone and that it was time for him to return home.
After Kathindi refused to talk to him several times, Kandobo body searched him but found no keys.
He left the spot and returned minutes later with a bunch of keys of which one eventually opened the lock, much to the excitement of the silent protestor who without saying a word raised his arms wide up, signalling victory.
Job seekers who gathered opposite the corporation said Kathindi pitched up at nine in the morning and had not said a word to anyone, including police officers, who pitched up in four vans.
Kathindi in 2011 also chained himself at the National Housing Enterprise head office in Windhoek demanding payment for work his architecture company has done for the enterprise.