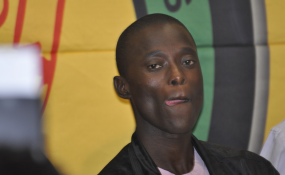 Photo: Garyvdm/Wikimedia Commons
Former ANC Youth League (ANCYL) secretary-general Sindiso Magaqa was a "young lion" and one of the ANC's bravest and fearless fighters, the ANC said on Monday evening.
Magaqa, a ward councillor in Umzimkhulu in southern KwaZulu-Natal, died at the Albert Luthuli Hospital in Durban on Monday from gunshot wounds he sustained in a suspected ambush in July. He was 35 years old.
In a statement, ANC spokesperson Zizi Kodwa said Magaqa was part of a generation of young people in the ANC who fought tirelessly for economic freedom.
"He lived his life boldly and courageously, standing true to his convictions, in even the most trying times," Kodwa said.
Magaqa was part of the ANCYL top six in 2011 with then president Julius Malema.
He was suspended in 2012 following a series of statements made against senior party leaders.
On Monday evening, Malema tweeted that Magaqa was a "fearless economic freedom fighter".
ANCYL KwaZulu-Natal provincial secretary Thanduxolo Sabelo said Magaqa set an "exceptional" example for fellow youth league members.
"He was a loyal and dedicated servant of the people of South Africa and a true revolutionary," Sabelo told News24.
My brother and friend #SindisoMagaqa is no more, may his soul Rest In Peace. We will always miss you fearless economic freedom fighter.?????????? pic.twitter.com/VyWBOcLJrc-- Julius Sello Malema (@Julius_S_Malema) September 4, 2017
Sabelo called on investigations into political killings in the province to be completed as soon as possible.
Magaqa and two other Umzimkhulu ANC councillors were shot on July 13 while on their way back from an ANC meeting, KwaZulu-Natal community safety MEC Mxolisi Kaunda said in July.
"As the victims arrived at the bus stop, they were attacked by unknown assailants who were armed with rifles. They sustained serious injuries after the suspects unleashed a hail of bullets at their car," Kaunda said.
Kaunda said two councillors and a former councillor from the same municipality had been shot dead within four months.
In April, Harry Gwala ANC region deputy secretary and Umzimkhulu municipality speaker Khaya Thobela was shot dead. In May, former Umzimkhulu councillor and branch leader Khaya Mgcwaba was gunned down.
Later that month, Mduduzi Tshibase' a teacher and Umzimkhulu councillor, was killed at his home in Umzimkhulu.
Political analysts who testified at the Moerane Commission into political killings in KwaZulu-Natal said most killings were related to competition over political positions. In October last year, KwaZulu-Natal Premier Willies Mchunu announced that he was setting up the Moerane Commission following a spate of political killings in the province.
Source: News24