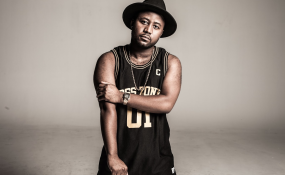 Photo: Cassper Nyovest/Instagram
By Vongai Mbara
Local hip-hop musician Cal Vin, born Mgcini Calvin Nhliziyo, is set to prove his mettle when he shares stage with South African rapper Casper Nyovest in Bulawayo at Large City next Friday.
The young musician has a song with Nyovest and they are expected to perform it on stage. Speaking from his base in Bulawayo, the ecstatic Nhliziyo promised to deliver a polished show. "This is a special event and as usual I will do my best to make my fans happy. I feel ready for the show and I am confident it is going to be huge," he said.
Calvin has become one of the biggest Zimbabwean rappers to come out from Bulawayo. He has bagged several awards and is on a mission to defend his position in the hip-hop industry.
"We will not sit back and look at other genres excelling but will do our best to keep hip-hop growing. It is such an honour to share the stage with Nyovest and it shows that hip-hop is still up and running," said Cal Vin.
Organiser the show, Sikonjwa Babongile commended musicians for their commitment to the event. "I have been talking to Calvin and all the other musicians. They are ready for the big day. It is very encouraging to see that our own musicians are fighting hard to make their fans happy. Casper is very popular this side and we are looking forward to hosting the event. Our local musicians are already working on their performances and by the look of things, it is going to be a memorable night," he said.
Nyovest has become one of South Africa's finest musicians and has released several hit songs including "Nyuku", "Superman" and "I wasn't ready for you" which are making waves at the moment.
Other performers include Freeman, Soul Jah Love and several DJs from Bulawayo.