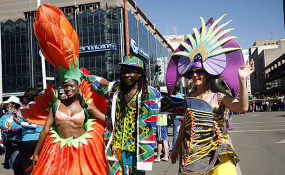 Photo: Aaron Ufumeli
By Jeoffrey Ncube
Organizers of the Harare International Carnival have confirmed that no-one will be arrested for public drinking during the week-long festivities.
Addressing journalists in Harare on Monday, Zimbabwe Tourism Authority (ZTA) Chief Executive Officer, Karikoga Kaseke said block parties which will be held in the central business district of Harare are made for the people hence the decision to allow people to consume alcohol without fear of arrest.
"From 1 August we are having road shows not only in Harare but throughout the country, these road shows have been well attended to an extend that when we say this is a 3 million man carnival, we are talking about the people who have also attended last time.
"This week is a happy week where we are going to have block parties we would like to do what Brazilians do in their countries where they have specific places to do their parties and people get entertained throughout the day and part of the night.
"So basically we are simply saying block parties are for the people to attend, the city council is here and l don't know why the ZRP is not around but they can confirm that they have allowed people to drink beer during these block parties but it's for this week only but after this week anyone who attempts to drink will be arrested," said Kaseke.