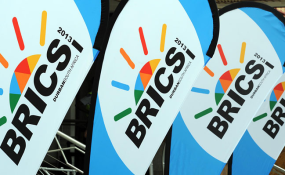 Photo: Govt of South Africa/Flickr
opinion
BRICS continues to assert its position as an alternative power to the existing global financing institutions, particularly as a platform for South-South co-operation. As they step up more in global issues, their credibility will be determined not only by their foreign policies but also their domestic stability and the prosperity of each member country. By LUANDA MPUNGOSE.
In the age of Western powers reorganising their priorities in the global arena, along with their diminishing relative economic and political weight, the BRICS' growing influence cannot be denied. The United States under President Donald Trump has drawn somewhat inward, putting "America First". Britain is trying to figure out how it will withdraw from the European Union, and what kind of relationship will be possible. The changing dynamics have seen the rise of BRICS as an alternative, with the grouping exerting its influence not only in economic co-operation but more recently in global governance. Some key developments include the possible expansion of membership, to become "BRICS-Plus".
Brazil, Russia, India and China have already admitted one new member. In 2011, South Africa joined the group of "emerging markets" as a key player on the African continent. BRICS-Plus, a proposal by China to expand the...