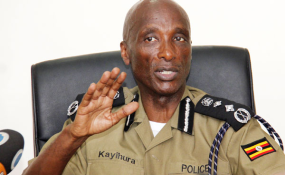 Photo: The Monitor
By Andrew Bagala
Kampala — Another woman has been found killed and abandoned in a shrub at Nyanama, off Entebbe Road, in Rubaga Division, Kampala City.
This brings the number of women killed in Wakiso and Kampala districts, in recent weeks, to 20.
Police believe the unidentified woman is in her mid-20s.
The Deputy spokesman for Kampala Metropolitan Police spokesman, Mr Luke Owoyesigire, said the deceased appeared to have been strangled.
"All signs show that she was strangled. She even defecated in her pants. By the time the police were called in, the body was still warm which indicates that the incident happened early morning," Mr Owoyesigire said.
This is the first time in three months, a similar incident has happened in Kampala City division.
It isn't yet clear whether the woman was sexually assaulted before she was killed as was the case in the previous incidents reported in areas of Katabi and Nansana in Wakiso District.
Mr Owoyesigire said no suspect has been arrested in connection to the latest killing.
"Scene of crime officers are still examining the scene to get clues to the killings," he said.
The body has been taken to Mulago Hospital Mortuary for a post-mortem.
Since May this year, at least 30 suspects have been arrested over the killings of women especially prostitutes.
Last week, 24 suspects were taken to court on charges of murder and terrorism before they were remanded to prison. Six other suspects are still detained at various police stations.
The Inspector General of Police Gen Kale Kayihura said the killings show a pattern and they are inspired by businessmen looking for blood for ritual sacrifices.
To prevent sex workers from being targeted, Gen Kayihura held a meeting with some of them and established spy networks to enable security track the killers.
Last week, the Speaker of Parliament, Ms Rebecca Kadaga tasked the ministers of Internal Affairs and Security to present a report on why the women are being targeted by criminals.