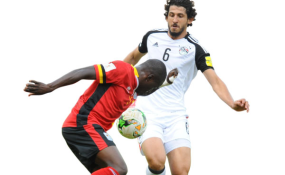 Photo: Eddie Chicco/Daily Monitor
By Ismail Dhakaba Kigongo
Alexandria, Egypt — Uganda's national basketball team will not have the chance to watch and support their football counterparts who face Egypt in a 2018 World Cup qualifying encounter on Tuesday.
The Silverbacks leave Egypt hours before kick-off destined for Dakar, Senegal where they will play in the 2017 Afrobasket which will act as a qualification round for the 2019 World Cup in China.
"We would have loved to watch the game and give support but our flight is 2.45pm," coach Mandy Juruni told Daily Monitor. "We fly to Ethiopia then Bamako (Mali) then get to Dakar on Wednesday," he added.
Egypt face Uganda Cranes at the Borg Al Arab stadium at 8pm local time (9pm in Uganda), hours after the Silverbacks depart the coastal town where they have been camped for 10 days.
Uganda, making a second appearance at the Afrobasket, are pooled alongside eight-time African champions Angola, Morocco and Central African Republic.
In an 86,000-seater that will have 70,000 fans, the 12 Silverbacks and their three-man coaching would not have a difference in terms of decibels for the away side but perhaps knowing that they are in the crowd would matter to Uganda Cranes.
On Monday, the two national teams met at Uganda Cranes' Radission Blu Hotel base. It was joyous moment as the footballers mocked each other about the height difference between them and the basketballers.
Many, particularly left backs Godfrey Walusimbi and Isaac Muleme, were stunned to meet 6-footers A'Darius Pegues and Stanley Ocitti.
There was endless laughter and jokes thrown in either direction before the captains, Denis Onyango and Steven Omony, spoke.
"We are here to lift Uganda's flag. I believe we have it in our country and hearts to lift this country. And we will fight hard. It's great to meet and share this moment of national unity and pride," Silverbacks' skipper Omony said.
"We are just like you even if you are taller. Let's all go and show our skills," Onyango stated.
The interaction was witnessed by coaches from both sides, Fufa president Moses Magogo and state sports minister Charles Bakabulindi.
"It's a great opportunity to meet here. As a minister I am happy. Now, we are talking basketball and football yet before we were talking about netball so you are all lifting the name of Uganda," Bakkabulindi said.
Magogo didn't differ much when he spoke applauding the role can play in the lives of millions of Ugandans.