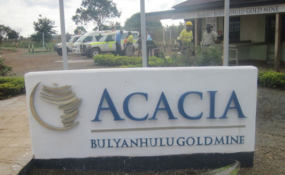 Photo: Daily News
INVESTORS seem to be taking a dim view of the latest news from Acacia Mining, with shares dropping heavily at the open after the gold producer announced a pullback in its operations Tanzania.
The FTSE 250 mining firm said yesterday it would stop underground work at its flagship Tanzanian gold mine and lay off staff to cope with a ban on exports of unprocessed ore, part of a confrontation between the industry and the government.
The company said the partial shutdown at Bulyanhulu would cut its overall production, sending its shares plummeting more than 13 per cent as markets opened on Monday morning, making it worst decliner among an index of its peers.
The nationwide ban on gold and copper concentrates - imposed by the government in March to encourage the construction of a local smelter - had left a build-up of ore inventory and cut revenue as the firm faced tax bills and other costs, said Acacia, which is majority owned by Barrick Gold.
"The impact of the ban, in addition to the deterioration of the current operating environment, has led to negative cash flow of approximately $15 million per month at the mine and thus has made ordinary course operations at Bulyanhulu un sustainable," it added in a statement.
Annual production is expected to be 100,000 ounces lower than the bottom of the previous guidance range of 850,000-900,000 ounces, it added.
Tanzania's largest miner, which is majority-owned by Barrick Gold, is in dispute with the government over tax payments and has been caught up in sweeping changes to Tanzania's mining industry spearheaded by President John Magufuli, who believes Tanzania is not getting its fair share of profits.
The government also accuses Acacia of evading taxes for years by under-declaring exports - an allegation dismissed by the company which said in July it had been hit with a $190 billion tax bill, equivalent to four times the East African country's annual gross domestic product.