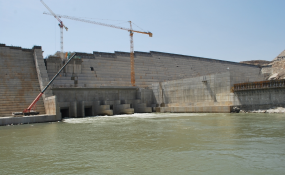 Photo: Ethiopian Herald
By Berhane Hailemariam
The Dam that has the capacity of holding 234 million cubic meters of water delayed for five years
Rib Dam, whose holding capacity stands at 234 million cubic meters of water, was finally completed with a cost of 3.7 billion Br after being delayed for five years. The construction of the project was carried out by Ethiopian Construction Works Corporation (ECWC).
ECWC, the then Ethiopian Water Works Construction Enterprise, took the project in 2008 with an initial plan of completing and delivering within four years' time. The dam is located in Amhara Regional State, South Gondar zone, between Farta and Ebnat Weredas, 690Km from Addis Abeba and 42Km away from Addis Zemen town.
The cost of the project was revised four times and finally fixed at 3.7 billion Br from the initial cost of 1.3 billion Br. Before reaching the current value, the price was also revised to 2.4 billion Br in 2013 and 4.6 billion Br in 2014.
The dam is designed to irrigate 20,000ha of land. Rib has a height of 73.5m from Original Ground Level (OGL) and 99.5m from the foundation. Its length is 800m and has top crust width of 10m. It is expected to be inaugurated next month.
Rib, which has a span life of 50 to 75 years, is owned by Ministry of Water, Irrigation & Electricity (MoWIE) and consulted by Ethiopian Construction Design & Supervision Works Corporation (ECDSWC).
The dam is filled with 8.1 million cubic metre volume of materials which include clay soil, filter material (sand), shell material (fine rock), and heavy rocks to protect it from heavy waves coming from the upstream side of the dam, according to Feleke Kidane, project manager of the dam.
Design changes, shortage of required materials, delay for relocation and problems with human resource, machinery and spare parts were the main reasons behind the delay for the project manager.
Bizuneh Tolcha, public relations and communication directorate director at MoWIE, further attributes the delay to lack of proper project management by the MoWIE and limited capacity from the contractor and consultant.
ECWC also constructed spill way to discharge the overflow of water, a bridge which connects the dam and intake tower that has six gates which the reserved water enters.
The three saddle dams, which prevent seepage from the dam with a 400,000, 24,000 and 7,000 cubic meter capacity, in addition to the protection of the sediments which enter to Lake Tana.
Currently, the water elevation is around 1,928m above sea level and at this elevation, the dam reserves 141 million cubic metres of water.
The Dam helps the farmers at Fogera and surrounding areas to be productive throughout the year using irrigation to cultivate rice and other cereals, according to Feleke.
The contractor of the project, ECWC was established in 2015 with an authorised capital of 20.3 million Br and 7.7 million Br paid up capital. It was formed after merging Ethiopian Road Construction Corporation, Ethiopian Water Works Construction Enterprise and Ethiopian Prefabricated Building Parts Production Enterprise.
It is mandated to construct and maintain roads, bridges, highways, dams and infrastructure dealing with hydropower and irrigation. Kesem Dam and Irrigation, Gidabo Dam, Megech dam and Tendaho clean water supply project are the major projects executed by the Corporation.