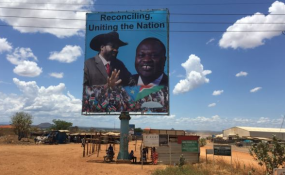 Photo: J. Patinkin/VOA
By Joseph Oduha
A civil society group has cautioned South Sudanese to stop demanding a General Election.
The South Sudan Network for Democracy and Elections (SSuNDE) said in a statement Monday that it was not possible to conduct a credible election in the country next year because violence was still rampant everywhere.
The lobby group was reacting to recent remarks by Information minister Michael Makuei that the young nation was ready to conduct elections at the end of the transitional period in 2018.
A legal challenge
"We will conduct elections despite the insecurity and even without the repatriation of refugees and the resettlement of the internally displaced persons," Mr Makuei said.
However, SSuNDE) Executive Director Raja Mohandis said there was a legal challenge within the peace document that would not permit any election right after the end of the interim period.
He said the amendment of the constitution, the Political Parties Act 2012 and the National Elections Act 2012 should have been first implemented as per the peace agreement.
"The delay to fully complete the amendments of these legislations at the moment makes it quite unrealistic for the country to conduct elections by March 25, 2018, that is 60 days to the end of interim period, as provided for in the Agreement of the Resolution of the Conflict in South Sudan," said Mr Mohandis.
The conflict
He added that both parties to the conflict in Sudan had deliberately violated the ceasefire.
"The parties to the conflict declared ceasefire several times but gunfire and hostilities in form of inflammatory speeches have not ceased in the country.
"This makes almost everyone not safe enough to move on road between towns all around the country. In such an unsafe environment, it is evidently difficult for a national elections commission, political parties, civic groups and electoral candidates to operate successfully," he said.