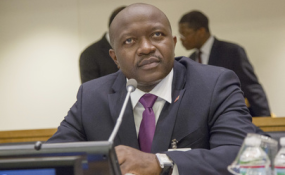 Photo: UN Photo/Rick Bajornas
By Lennart Dodoo
Monrovia — Senator George Manneh Weah is quite a different kind of politician this time around, exhibiting unprecedented political maturity but at the same time, leaving many Liberians to ponder over the sincerity of his utterances.
The soccer legend, who fresh from the pitch dared politics in 2005, aiming at the presidency had been a bad public speaker, often fumbling with grammar and pronunciations. This limitation at the time hindered Weah's chances of making the best out of reaching out to Liberians of all walks of life.
Perhaps recognizing his own inadequacies, Senator Weah took a backseat in the 2011 elections and handed the steering wheel to Cllr. Winston Tubman to lead the Congress for Democratic Change (CDC) to the elections. Cllr. Tubman was immediately ousted after the party's failure to secure the presidency under this leadership.
In 2014 Weah took the move to groom himself into politics when he boldly decided to run as Senator for Montserrado County which he won with a landslide victory despite the presence of Robert A. Sirleaf, son of the President in the same race. Weah has since been engaged with various national and international political discussions, which obviously set the pace for the transformed Senator Weah that has become more formidable than ever before in the 2017 presidential elections.
His political maturity came with bravery - fearing nothing and making pronouncements never heard from him since he entered politics 12 years ago.
For example, it was not until elections campaign were declared open for the 2017 polls that Liberians started hearing that Vice President Joseph Nyumah Boakai, standard bearer of the ruling party, was the rebel leader of the Lofa Defense Force that rained mayhem on the people of Lofa County during the civil war. Senator Weah made that pronouncement. It was the first time such was ever heard.
And though debunked by Vice President Boakai, that allegation continues to be a core part of Senator Weah's campaign messages as he tours the country on a campaign trail.
Speaking to hundreds of supporters in Fuamah, Bong County on Monday, Senator Weah reiterated, "... If Joseph Boakai can come to you and tell you that you must not vote must not vote for a footballer - that's racism. The same Joseph Boakai will come to you and say 'This is country people's time'.
In my life, Country and Congau is not part of what I've learned...
Today in this country where VP Joseph Boakai was General in the Lofa Defense Force, today he'll come a tell Liberians 'This country belongs to Gio man or a Mano man or a Kru man' do not believe him. This country belongs to Liberians."
So far, there has been no proof or witness to corroborate Senator Weah's accusation that Vice President Weah was an active participant of Liberia's civil war.
A fortnight ago, the Coalition for Democratic Change paraded three men who claimed they were hired by Vice President Boakai, George Kailondo, the Unity Party Montserrado Campaign Mobilization Chairman and Defense Minister Brownie Samukai, to disrupt the CDC August 19 rally in a move to create avenue for the assassination of Senator Weah.
The men, already known to police as being criminals, were turned over to the police and the United Nations Mission in Liberia to aid with investigation.
Two Saturdays ago, Senator Weah alluded to the allegation, saying that plans to kill him would always fail because he has always demonstrated love to Liberians and no one would have the bravery to kill him.
All the accused in this allegation vehemently rubbished the allegation, challenging the CDC to substantiate their claim.
Senator Weah's recent assertion of being a one-time sponsor of former Foreign Affairs Minister, Augustine Ngafuan, has boggled the minds of many.
Mr. Ngafuan who also served as Finance Minister prior to becoming Foreign Minister is currently the Unity Party's campaign chairman.
Outlining his love for country and contributions to Liberians as opposed to that of Vice President Boakai who he claimed has not achieved, Weah said, "I have a track record of loving this country, I have a record of during the dark days, I'll be on the refugee camps; I've a track record, today even the campaign manager of the Unity Party he will attest to Joseph Boakai that 'Today, I was former Finance Minister, I was former Foreign Minister because of George Weah. George Manneh Weah sent me to school.'
"He can never say contrary to that."
But speaking contrary to Senator Weah's disclosure, Mr. Ngafuan noted that the current political stress and headache sometimes lead political actors to stray beyond the boundaries of truth as they endeavor to persuade voters to see them in a better light than their competitors.
Ngafuan wrote on his official Facebook page: "Over the past few hours, I have been inundated with calls from journalists and other individuals seeking clarification on a statement purportedly made by the Standard Bearer of the Coalition for Democratic Change (CDC), Senator George Manneh Weah, to the effect that he paid my school fees during my days as a student. "
"Without trying in any way to diminish the contribution to country of Senator Weah and any other Liberian for that matter, the truth and plain truth is that at no time in my academic sojourn did Senator George Manneh Weah pay my tuition or fees. Any statement implying the contrary is simply false and misleading."
Ngafuan continued, "For the sake of the record, I graduated from the Booker Washington Institute (BWI) in 1989; and while at BWI, my tuition and fees were fully bankrolled by the American Women in Liberia (AWIL), a philanthropic group comprising American females working or residing in Liberia.
"I obtained my undergraduate degree from the University of Liberia. While at the UL, I initially benefited from the Ministry of Education (MOE) scholarship offered to high school seniors who graduated as valedictorians of their respective classes."
"As Valedictorian of the Class of 1989 of BWI, I became one of the MOE scholarship beneficiaries. I later on applied for and was awarded a full scholarship by the J.J. Roberts Educational Foundation (JJREF), a scholarship I benefited from up to the time of my graduation from the University of Liberia. Today, I am proud to be called a J.J. Roberts Veteran Scholar.
"As an employee of the Central Bank of Liberia (CBL), I was one of eight staff members who benefited from the CBL Staff Capacity Development Scholarship program introduced by former CBL Governor Elie Saleeby. I graduated in 2004 from the William E. Simon Graduate School of Business of the University of Rochester in New York, USA where I earned an MBA in Finance, Accounting, and Economics. My tuition, fees and living expenses at Simon were fully covered under the CBL Scholarship program.
"I have since obtained a hosts of other certificates fully funded by external donors including a certificate in central banking from the Federal Reserve Bank of New York, a certificate in Alternative Dispute Resolution from California State University at Sacramento and a certificate in Public Financial Management (PFM) from the John F. Kennedy School of Government at Harvard University.
"With "malice towards none and charity to all", I want to make it categorically clear that these are the unalterable and everlasting facts. The ever-moving hands of the clock can never change these facts!"