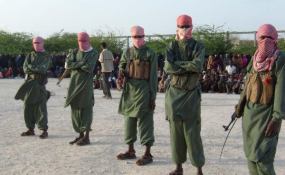 Photo: Hassan Mahamud Ahmed/IRIN
A member of Somali Senate has escaped unhurt from an apparent assassination attempt in the capital Mogadishu on Tuesday, witnesses said.
The senator Hussein Ali Hajji came under fire by gunmen in moving vehicle, as he was driving between Tarabunka junction of Digfer hospital in Hodon district.
"Gunmen in a vehicle reportedly blocked a road, showering bullets on a car carrying Somali Senator, Hussein Ali Haji near Tarabunka area," said a witness, speaking to Radio Shabelle.
Reports said several civilians who were on-board the senator's vehicle have been wounded, and were rushed to a nearby hospital to receive medical treatment.
Al shabaab has claimed credit for the assassination bid against the Senator.