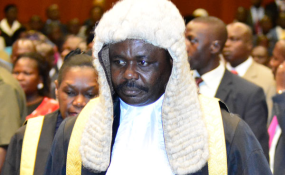 Photo: The Monitor
By Olive Eyotaru
The mysterious gruesome killings of women and girls in Katabi town council and Entebbe municipality in Wakiso district have set parliament and cabinet on a collision course.
Yesterday parliament suspended its plenary session after the ministers for Security, Defence and Internal Affairs skipped an afternoon session during which they were supposed to present comprehensive statements on the murders.
The House, in its first sitting after a one-month recess, resolved to stay its plenary sittings until the three government ministers turn up and explain the murders of at least 20 women in the last three months in Entebbe, Katabi town council and Nansana municipality.
Aruu South MP Odonga Otto moved the motion to halt the sitting after Gen Jeje Odongo (Internal Affairs), Adolf Mwesige (Defence) and Lt Gen Henry Tumukunde (Security) skipped parliament.
Justifying his motion under Rule 16, Otto noted that Ugandans are gripped with fear in the face of the killings and need the government to provide a progress report on the investigations.
Speaker of Parliament Rebecca Kadaga had summoned the ministers last week to make statements in the House.
"The whole world wants to know why the women are dying. The speaker has been very lenient to the executive but we are not seeing any minister running to parliament. In the circumstance, I want to move a motion that this House is adjourned until government is ready to present this statement," Otto suggested, attracting thunderous applause and shouts of "aye" from his colleagues.
The legislators also pointed out the contradictory explanations offered by IGP Gen Kale Kayihura and Tumukunde.
In defence of his colleagues, Local Government minister Tom Butime said that much as there may be disagreements within the security forces about the killings, investigations are on course.
His statement, however, angered some MPs who accused the government and the police of incompetence.
"The matter of Ugandans being killed is not a trivial matter," said Winnie Kiiza, the Leader of Opposition. "I really feel hurt that when it comes to discussing security concerns of women, we are still being told investigations are being done. Can we at least have a partial statement on the matter?"
The motion won the support of minister of state for Education Rosemary Sseninde (Wakiso Woman), in whose constituency most of the murders have taken place.
"It is so saddening that up to now we have not got the actual suspects... We hear that suspects have been held, then another day there's another murder," Sseninde lamented.
"The women being killed have left young children. I, honestly as an MP for Wakiso, support the motion."
Sseninde, however, pleaded with MPs to give the government time to prepare its report. Atim Joy Ongom (Lira Woman) had earlier kick-started the debate, wondering why government has not yet stopped the heinous crimes.
"There is no way we can sit as a House without having a say on whatever is happening. We are not happy as a country and as women and families when it comes to these murders... we are calling on the minister of Internal Affairs to come up with a statement detailing what is happening. Sincerely we are living in fear," Ongom said.
Peter Sematimba, the Busiro South MP, whose jurisdiction includes Katabi town council, described the murders as "gruesome terrorism" against his constituents, who he said have vowed to protect themselves. He urged the security agencies to speed up their investigations and arrest the culprits.
While Gen Odongo did not return our repeated calls, Mwesige said in an interview that the statement will be presented to the House today (Wednesday).
"While we are working with Internal Affairs and Security ministries in regard to this, our colleagues from Internal Affairs are the lead agency on this. The statement will be made but we are also helping them in the investigations," Mwesige said.
At least 20 women and girls have been murdered in Entebbe, Katabi and Nansana municipality over the last three months.
The 19th murder occurred on Sunday, August 27, in Katabi town council. Residents found the naked body of Jalia Nalule dumped in Kayirira forest reserve in Nkumba Central.
A day earlier, an unidentified woman's body was found dumped near Kitala junction along the Entebbe highway.
While addressing journalists at parliament last week, Kadaga expressed concern over the serial killings.
"Government should expeditiously investigate and ensure prosecution of suspects, but most importantly ensure people of Entebbe and Ugandans go about their lives without fear of being attacked. I am directing the ministers concerned to come up with a statement and inform the country officially on this matter and offer solutions," Kadaga said.