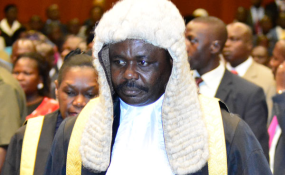 Photo: The Monitor
By Yudaya Nangonzi
Police in Nakaseke district have arrested Charles Kato who they say is the prime suspect in the murder of Maria Nabirawa whose body was recovered in Nyanama, along Entebbe road, on Monday.
Nabirawa's body was on Monday morning discovered by employees of a private car washing bay in Nyanama.
In a media briefing yesterday, Kampala Metropolitan police spokesman Emilian Kayima confirmed that Kato, a mechanic based in Kampala, had been arrested from Ssakkabusolo village, Kasangobe sub-county, in Nakaseke district.
"Kato was arrested yesterday in the morning when he had gone to a shrine for cleansing because of the murder he got involved in," Kayima said. "We have not arrested the owner of the shrine because he is the one who tipped us and that is healthy. So, it was good news from him."
Kayima added that Kato, who was married to Nabirawa with two children, would be brought to Kampala where he is to be charged for her murder.
According to police, Kato, aged 26, and Nabirawa, estimated to be in her early 20s, were both residents of Matugga in Wakiso district.
Kayima explained that Nabirawa met her death after getting involved in a conflict with her husband.
"When [Nabirawa] felt that she was not safe at home, she went to spend a night out in a lodge known as Master Inn in Namasuba, along Entebbe road," he said.
However, little did Nabirawa know that Kato was closely following her movements to the lodge. During the night, she was allegedly pulled out of her room, bundled onto a boda boda and later into a vehicle and driven away to an unknown place.
The next day, residents in Nyanama found a dead body.
"We also want to establish whether he [Kato] was alone or had other assailants with him," Kayima said, urging couples to seek help from counselors and elders whenever relationships turn sour.
Nabirawa's death brings the toll of women who have been gruesomely murdered in Wakiso district to 20 in a space of three months. Of the 20, Kayima said, four are linked to domestic violence.