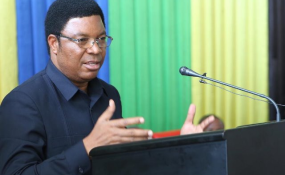 Photo: Daily News
By Valentine Oforo
Dodoma — The government has introduced two electronic systems that are expected to simplify budgetary processes and increase transparency and accountability in local authorities.
Prime Minister Kassim Majaliwa launched the redesigned Planning, Budgetary and Reporting (PlanRep) and the new Facility Financial Accounting and Reporting (FFARS) systems yesterday and said they would enable the government to save at least Sh8 billion that was spent annually during budgetary planning processes at district and regional levels.
He added that the new systems would also play vital role in fast-tracking service delivery in key public sectors as well as ensuring accountability and transparency among public workers at all levels.
Mr Majaliwa said the systems were also aimed at plugging corruption loopholes and curb the misuse of public funds by dishonest civil servants.
"Budgetary planning was a time consuming process which required billions of shillings, but the new computer-based information management systems will play complementary roles in preparing plans and budgets fast and efficiently."
Mr Majaliwa directed regional commissioners to see to it that the new systems were adopted and used effectively in their areas to ensure that the intended end results were achieved.
"These platforms will ensure efficiency, transparency and accountability in the use of funds among local government authorities and pave the way for improved delivery of public service ."
The Prime Minister thanked the United States Agency for International Development (USAID) for its support.
"I would like to appreciate the continuous support that Tanzania has been receiving from USAID in improving various key sectors," he said.
The US Chargé d'Affaires, Ms Inmi Patterson, said her government was happy to help Tanzania improve service delivery in the public sector in order to speed up development.
"The United States is proud to partner with Tanzania as you work towards a future marked by transparent government, sustainable development and shares prosperity.
"These systems will give the country enough teeth to combat corruption and embezzlement in all sectors. Corruption is a dangerous disease just like other killer diseases. The vice robs the country monies that could be used to improve key sectors like health and education. I believe with the new electronic systems Tanzania will make important stride at fighting the scourges," Ms Patterson said.
For his part, the Minister of State in the President's Office (Regional Administration and Local Government), Mr George Simbachawene, said Tanzania had now moved from a "stand alone" to a coordinated union systems. He added that at least 63,000 civil servants across the country had received training on the use of the systems.
The USAID's PS3 chief of party, Dr Emmanuel Malangalila, said the systems were generated to a large extent by indigenous experts in order to assure its sustainability.
"While PlanRep assists with planning, budgeting and reporting revenues across multiple levels of government, FFARS serves as an accounting and reporting system for facilities such as schools and health centres where funding for public services is increasingly being managed," he said.
USAID Mission director Andy Karas assured Tanzanians that the US would continue to assist the country in improving key services.
FFARS will offer service providers in the public sector with a simple, standardized as well as set of document processes that enable them to record the availability and source of their funding for core services at each facility.
Other dignitaries who attended the launch included Finance and Planning minister Philip Mpango, Health minister Ummy Mwalimu and Minister of State in the Prime Minister's Office Jenista Mhagama.