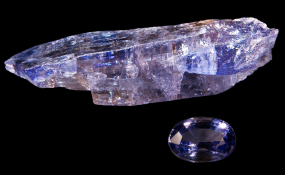 Photo: Didier Descouens /Wikpedia
By By Joseph Lyimo
Government has lifted a ban imposed on Gem & Rock Venture Mine and two mines operated by TanzaniteOne Mining Limited at Mirerani in Simanjiro District.
The mines which border one another, have been in constant conflicts following underground encounters. They were closed since July 29, 2017 after five days of fighting between the workers of the two companies, with each camp blaming the other for mining in its area.
Lembris Mbatia, 22, a worker with Gem & Rock Venture Mine was killed in the clashes and 13 other people were injured.
On lifting the ban, the government has ordered Gem & Rock Venture Mine to carry out extraction operations 600 meters from the Tanzanite one mine.
The order follows realization that the company has transcended in boundaries to the neighbouring mine, owned by TanzaniteOne Company.
Simanjiro District Commissioner, Mr Zephania Chaula, said the decision was issued after the owners of Gem & Rock Venture Mine and the CT Shaft Mines of TanzaniteOne Mining Limited had failed to resolve their conflict in a given period of time.
"The mining law is clear that the owner should carry out mining activities in his area and is not allowed to enter and perform extraction operations in area owned by another mine," he said.
He added: "From now on we will take legal actions against mining companies which will be found guilty of conducting extraction operations outside their mining areas."
When reached for comments, assistant commissioner of minerals for the Nouthern Zone, Mr Adam Juma, said the decision to lift the ban aimed at allowing them to continue with their operations.
He further commented that the two mining companies had failed to resolve the conflict on their own hence the government intervention under Mining Act.
When contacted, Gem & Rock Venture mine director, Mr Sammy Mollel, could not comment oin the move saying he was attending a meeting.
But TanzaniteOne's leaders said they were pleased with the government's decision.