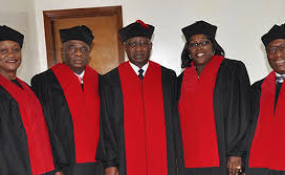 Photo: FrontPage Africa
By Momoh Siryon
The Supreme Court of Liberia has cleared Representative Edwin Melvin Snowe to participate in the 2017 electoral process in Bomi County District #1 after several legal battles at various levels of the National Elections Commission's magistrate and elections dispute hearing offices and at the Board of Commissioners of the NEC.
On Tuesday September 5, 2017, the Supreme Court of Liberia declared Rep. Edwin Melvin Snowe the winner in the case filed against him by Senator Sando Dazoe Johnson, stating that there is no law to stop the representative from contesting.
The highest arbiter of law in Liberia after receiving the case and rulings from NEC, cleared the Montserrado County lawmaker to contest in Bomi County.
Shortly after the ruling, Senator Johnson told journalists that he disagrees with the ruling, but accepted it because the Supreme Court is the highest court in the land.
"I disagree with the ruling, but this is the kind of Supreme Court we have, we will live with it, but at the appropriate time we will speak to it," he said.
According to him, the Liberian Supreme Court can never be like the one in Kenyan, so their ruling should be accepted.
Rep. Snowe is the current lawmaker for Montserrado County Electoral District #6 and was taken to court by Senator Sando D. Johnson and Representative Samuel Karmo for registering to contest in another district.
Rep. Snowe currently receives benefits as representative of District #6, Montserrado County but is contesting in Bomi County Senjeh, District #1.
However, Representative Karmo said he could not comment, but he considered going to the ballot box.
Meanwhile, Representative Snowe refused to comment.