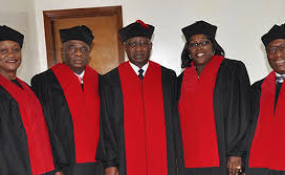 Photo: FrontPage Africa
By P. Nas Mulbah
Angry protestors Tuesday, September 5, stormed the grounds of the Temple of Justice and physically attacked Chief Justice Francis Korkpor, while demanding justice in a case involving General Services Agency Director Mary Broh and a private citizen Sheik A. Kouyateh.
The protestors who were supporters of Mr. Kouyateh blocked the main entrance of the Temple of Justice singing slogans such as "We Want Justice; No justice no entrance for the Chief Justice."
Chief Justice Korkpor sat in his vehicle for more than twenty minutes while his securities and police tried to curb the demonstration but their effort was fruitless as the protestors resisted every force from the police and other security personnel.
After watching both his personal security and police failed to remove the crowd, Chief Justice Korkpor than ordered his convoy to use the route leading to the Police Headquarters to enable him enter the premises of the Judiciary.
The protest erupted when Magistrate J. Kennedy Peabody of the Monrovia City Court dismissed the case against defendant Broh who was facing multiple criminal charges including simple assault, criminal solicitation, official oppression and criminal facilitation.
On Tuesday, the clerk of the court received a communication from the Assistant Minister of Justice for Litigation Cllr. Augustine C. Fayiah informing it that they are the prosecuting arm of Government responsible to prosecute all criminal cases.
Cllr. Fayiah said having the right to prosecute criminal cases, the Ministry of Justice does not have sufficient evidence to prosecute defendant Broh. Hence, they are dropping all charges against the defendant until and unless they have obtain sufficient evidence to be able to carry out prosecution.
The court said it is worthy to note that under the criminal procedure law, especially 10.6, it is said that the magistrate shall listen to the complaint and if there is a probable cause orders the issuance of a criminal writ as was done in the instant case.
The right of issuing a criminal writ is exclusively at the discretion of the court. However, the prosecution that is the Ministry of Justice is clothed with the responsibility to produce evidence in all criminal cases.
Based on the state argument, the Court ordered the case dismissed.