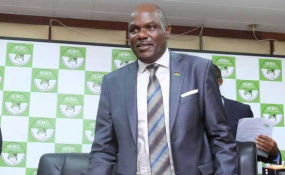 Photo: Jeff Angote/Daily Nation
By Patrick Lang'at
IEBC Chairman Wafula Chebukati has rubbished attempts by Jubilee and Nasa to demand changes to a proposed team to run the October 17 fresh presidential elections, terming the calls an affront on its independence.
In different letters written to Jubilee Secretary-General Raphael Tuju and National Super Alliance co-principal Musalia Mudavadi Wednesday evening, Mr Chebukati said the commission had all the right to make changes without being directed by any of the political outfits.
"Please note that the commission is an independent constitutional body, which as per Article 249 of the Constitution shall not be subject to direction or control by any person or authority," Mr Chebukati said in his letter to Mr Tuju.
"It is therefore unacceptable for you to provide a list of staff that you direct us not to consider for the project team."
INDEPENDENT
Mr Chebukati told Mr Tuju and Mr Mudavadi of Nasa to respect the independence of the commission and allow the team to make internal changes as it pleases.
"I welcome your comments that the independence of the IEBC is not negotiable. It is for this reason that I find it unacceptable for you to provide a list of staff that you direct us to "step aside or be suspended," Mr Chebukati told Mr Mudavadi.
However, in the letter, Mr Chebukati agreed with Nasa that the commission should carry out a full audit of its servers as had been ordered by the Supreme Court.
The court annulled the election of President Uhuru Kenyatta and ordered a fresh election within 60 days.
PROPOSALS
"I have taken your proposals in the context of technology and will review them.
"I also intend to carry out a full audit of the servers guided by the previous orders of the Supreme Court," Mr Chebukati said.
He went on: "The process will be transparent with international experts and representatives from the Jubilee Party and the Nasa coalition."
BRIEFINGS
The chairman also promised weekly briefings with the presidential candidates, and a different weekly engagements with the civil society and religious leaders.
"I have decided to embed two ICT experts from Jubilee and Nasa in my project team," Mr Chebukati said.
However, he said that it will be difficult to change the 290 returning officers in the run up to the poll.
"Given the short period of time before the fresh presidential election, I may not be in a position to train new returning officers across the country," Mr Chebukati said in his letter to Mr Mudavadi which he copied to the Jubilee Party.
However, the chairman promised to review places where the returning officers "may not have discharged their duties effectively".